Looking for webinar software? We've got you covered! Here are the best options available based on features and pricing.
Webinars are a great way to build a more personal relationship with your audience.
It's no secret that webinars are a very effective way to market your business, and there are lots of reasons why they're so important – especially now, with COVID-19 having forced many businesses to move in-person events and sales meetings into a virtual environment.
Webinars give you the chance to answer objections at scale, build trust and credibility with your audience, and drive conversions. With automatic webinars, you can even complete this task while you're asleep!
In this post we'll run through some of the best webinar marketing platforms available right now to get your own webinar strategy up and running.
Everything you need to select the ideal webinar platform for your requirements will be covered, including the features, benefits, and purposes each platform is best suited for.
Webinar Software ToC
Demio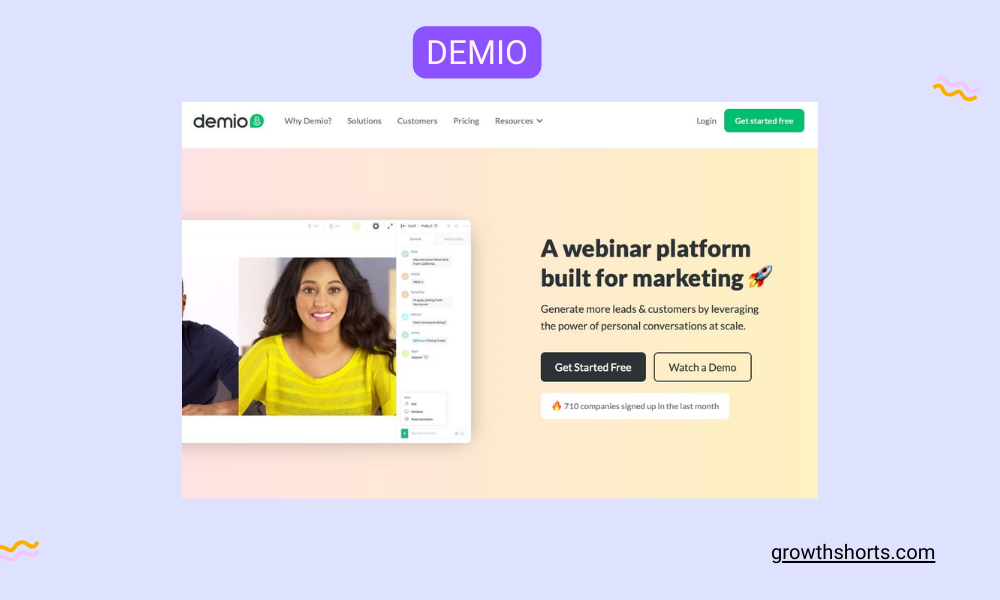 Demio is a webinar platform that has been around since 2014. They are one of the most popular platforms, offering a modern and powerful set of tools for creating your webinars.
Demio offers both pre-recorded and live webinars, as well as an option for hybrid mixes of pre-recorded and live recordings. This means you can run interactive polls, launch offers with call-to-action buttons, share live document handouts, run Q&As and much more throughout your webinar.
Unlike many other platforms that are outdated and have failed to keep up with the times, Demio offers a modern and powerful platform for running your online marketing efforts.
Demio features:
Who is Demio for?
Demio is for marketing teams who want a dedicated webinar tool with automated replays but put more emphasis on the live events.
We are currently evaluating webinar platforms for our most recent project, TrueNorth, and will very probably choose Demio.
For non-profits and education companies that have been forced to run their operations online due to coronavirus, Demio is offering a 50% discount for those companies.
Livestorm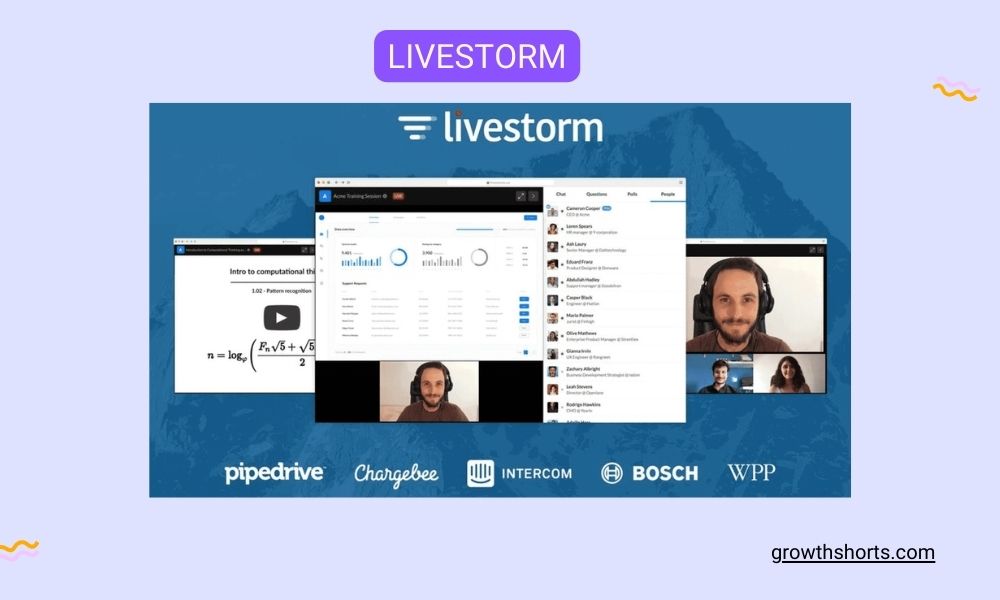 When you're looking for a webinar platform, there are tons of options.
However, not all of them were made equally.
One of the few that does more than just serve as a marketing tool is Livestorm. Livestorm has a lot more to offer, even while it still provides all of the marketing elements you'd anticipate (automation sequences, automatic replays, etc.).
To improve the quality of your team's virtual meetings, Livestorm, for instance, can be used for meetings and demos with up to 12 participants. It also connects with other collaboration tools like Miro. From the landing pages for registration through the live webinar experience, the entire platform is exquisitely designed and offers a wonderful user experience.
Finally, it's not a black box. Unlike some of the more archaic webinar platforms out there, Livestorm integrates with most common marketing tools like HubSpot and Salesforce so that you can understand how your webinars are performing!
Livestorm features:
Who is Livestorm for?
Livestorm is a good option for software and tech companies, as well as any organizations serving EU or UK contacts who are required by law to be GDPR compliant.
With that in mind, it's no surprise that Livestorm has integrations with popular tools like Google Sheets and Zapier. This makes it easy for you to connect your data from these sources into Live Storm so you can start building your customer journey map.
Livestorm also has an integration with Typeform so you can add surveys and forms into your journeys.
EverWebinar
We're going to take a look at EverWebinar, one of the most popular webinar platforms on the market.
With EverWebinar, you can program and automate your webinars to play at predetermined intervals while still attempting to provide users a live experience simulation.
We had fantastic success using EverWebinar to automate webinars for Leadformly, one of our earlier ventures. As you can see in the chart below, when we first started using webinars, we used WebinarJam, a sister company of Everwebinar. Our webinar attendance has improved to 75–80% since switching to EverWebinar and evaluating the scheduling process.
EverWebinar features:
Who is EverWebinar for?
If you want to automate webinar screenings and use them as a highly successful lead generation method, EverWebinar is the platform for you.
EverWebinar allows you to:
Automatically screen potential attendees based on their answers to a set of questions
Capture prospects' contact information with a single click
Schedule follow-up email sequences
Track and analyze the success of your webinar campaigns
WebinarJam
EverWebinar is an automated webinar platform that makes your events easy to manage, but if you're looking for a more traditional webinar platform, WebinarJam is the way to go. It was developed by the same team as EverWebinar and is designed to support live events. This means it doesn't have the same kind of automation or scheduling features as EverWebinar, but it does sync perfectly with EverWebinar to create a platform combination that caters to all of your webinar requirements—better equipped and more affordable than most rivals.
WebinarJam features:
Who is WebinarJam for?
WebinarJam allows you to stream online webinars in high definition, live, and then later record them on EverWebinar.
WebinarNinja
WebinarNinja is the webinar platform that's used by AppSumo, BareMetrics, and John-Lee Dumas (just to name a few).
The platform is designed to help you convert attendees into customers. It integrates with every major CRM system you can think of, offers timed offers, comes with email notifications built in—you name it! The platform is well-designed and easy to use.
And they've got beautiful landing pages if you need them!
WebinarNinja features:
Who is WebinarNinja for?
WebinarNinja is for anyone looking to host a webinar, virtual summit, or training event.
The software can be used to host events of any size, but is particularly well-suited for those with audiences under 500 people. If you're planning on hosting a large-scale event or require extremely low-latency, our next option may be a better fit.
WebEx
WebEx is a webinar platform that offers a wide range of features for holding online meetings, events, training sessions and team collaboration. Although the pricing is quite close to the products we've already looked at, this makes it unique. In contrast to Demio, you receive a ton of features for your money and a whole distinct set from GoToWebinar
One thing that caught our eye was the ability to hold group video calls with up to 250 people on the same call – something we here at [company name] use all the time when we need to get together with our marketing team in one place.
Another feature we love is the ability to share files easily during an event – this is super useful if you want to show off some photos or videos during your presentation or training session without having everyone download them first!
WebEx features:
Who is WebEx for?
WebEx is for the business that doesn't want to spend its time marketing.
WebEx is for the business that just wants to make video calls, webinars, and live broadcasts.
WebEx is for the business that wants a single, powerful video communication system without the marketing features.
GetResponse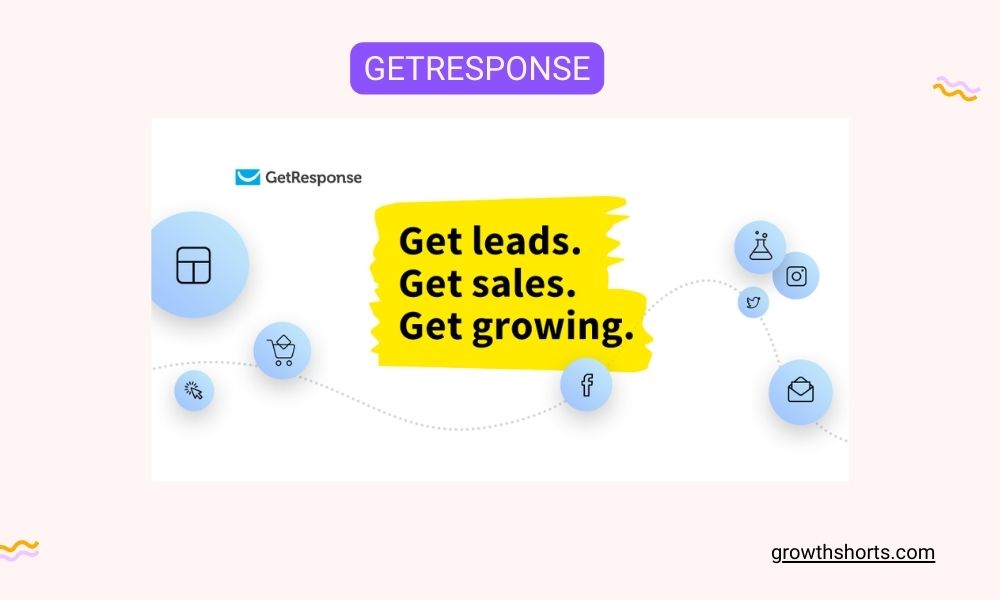 GetResponse is a webinar and meeting platform that offers a wider range of features than its competitors.
Unlike GoToWebinar, which focuses on holding webinars, GetResponse is more versatile, allowing you to hold online meetings, events, training sessions, interactive presentations and team collaboration.
This means that if you just want to host a simple webinar, you can do it with one click—and if you need something more complex like an event calendar or online training program, GetResponse will have you covered.
It's also different from Demio in that it has no built-in surveys or polls—although it does offer the ability to send emails after your event is over and collect feedback from attendees
GetResponse features:
Who is GetResponse for?
GetResponse is for you if you're looking for a simple and affordable way to manage all your email, marketing automation and webinar needs in one place. You don't want to spend hours setting up complicated tools, and you need something that's going to work with the rest of your web presence.
ClickMeeting
Another program specifically designed for webinars is ClickMeeting, which essentially provides all the functionality you would anticipate at this point. Again, the automated relay capability is the only significant element missing; nonetheless, webinars can be recorded and downloaded for sharing.
One of the coolest things about ClickMeeting is that it's so easy to use and set up. All you need to do is sign up for an account, create a meeting and invite people to attend via email or by sharing a link – there's no complicated software to install or sign-ups required. It also has built-in apps for Android and iOS devices so you can take your meetings on the go.
If you want to record your webinars then ClickMeeting allows you to do this easily as well with their recording feature. You can either record by yourself using your webcam or microphone or even use their video conference call option which allows unlimited participants at no extra cost – which makes it perfect for large groups
ClickMeeting features:
Who is ClickMeeting for?
ClickMeeting is a great option for serious webinar marketers. It's easy to use, has a ton of features, and provides some great analytics.
Livestream
If you're looking to create a professional-quality webinar, Livestream is the tool for you.
Livestream is not a webinar platform—it's a platform for creating high-end live streaming productions. Livestream is designed to be used for high-end productions, including corporate webinars, using numerous cameras, professional audio equipment, and lighting. Therefore, none of the webinar marketing capabilities that have been the subject of this article's discussion so far are available with Livestream. Instead, it offers a platform for watching high-quality live shows, and it's up to you how you use it.
Livestream features:
Who is Livestream for?
Livestream is for businesses that create expert-caliber live video content for online platforms. Webinars are optionally included.
Webinars OnAir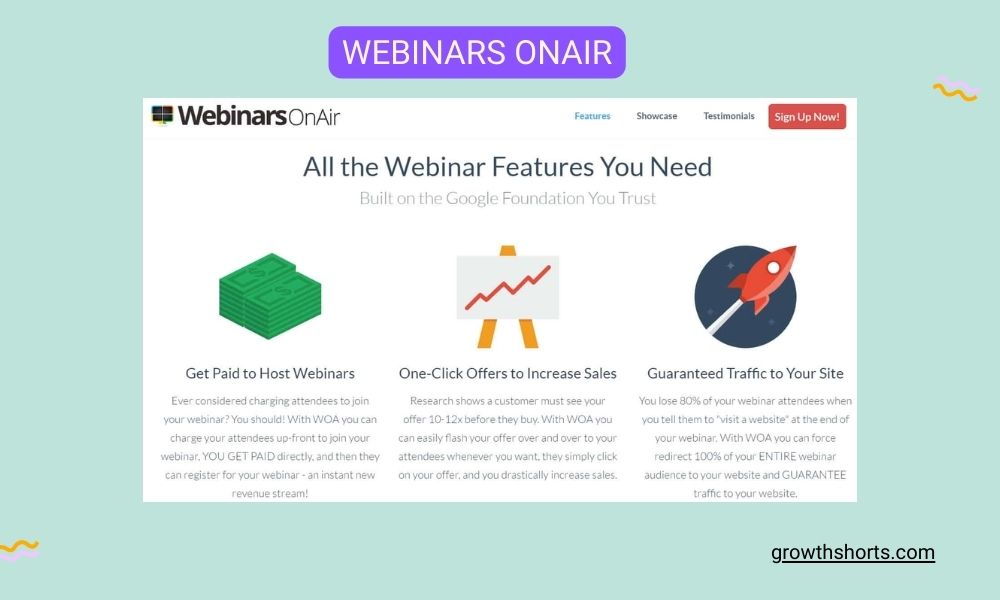 With a platform of this type, Webinars OnAir is a solution that offers "all the webinar functionality you need." It's a strong statement, but one that is supported by many of the essential characteristics we've been searching for in this group of tools, as well as a few standout characteristics.
Webinars OnAir offers many features that make it easier for you to host and manage your webinars from start to finish: from creating and distributing invitations to moderating live sessions and publishing recordings afterwards. You can also use it as a video conferencing tool if you want to expand your reach even further than your own website.
The platform is free for up to 5 participants at once, but if you need more than that then there are paid options available starting at $19 per month per user (or $200 annually).
Webinars OnAir features:
Who is Webinars OnAir for?
Brands that must conduct cost-effective webinar marketing.
Zoom
Zoom is a webinar hosting platform that's best for those who want a reliable, affordable solution for hosting live webinars.
Last year was a big one for Zoom, and 2019 looks like it will be just as exciting! We've seen them launch new features, improve their existing offerings, and introduce new pricing plans.
The first thing to know about Zoom is that it's not focused on webinar marketing. Even though Zoom doesn't offer webinar automation, if all you require is live webinar hosting, you can have a solid system for a remarkably low cost. However, low pricing comes at a price, as Zoom offers relatively few webinar marketing capabilities.
Zoom features:
Who is Zoom for?
Organizations who require a complete video conferencing solution including live webinar transmission.
GoToWebinar
When you're hosting a webinar, you want to make sure that everything is taken care of. That's why GoToWebinar is one of my favorite options for hosting webinars.
With GoToWebinar, all you have to do is choose the date for your webinar and it takes care of everything else. It gives you access to a number of built-in webinar layouts that offer the ideal business setting.
Additionally, you can now advertise your forthcoming event and generate a ton of traffic thanks to remarkable features like automated email reminders, customisable webinar invitations, and a registration page that converts really well. Other features include automatic webinar recordings, built-in polls and surveys, and more.
GoToWebinar features:
LiveWebinar
Have you ever wanted to conduct webinars?
Well, now you can with the LiveWebinar cloud-based webinar tool.
You can host webinars, share screens, stream live videos, record your screen, social media broadcasting and more—all from your internet browser.
The option to integrate webinars into your website also makes it easier for you to conduct or show webinars directly to site visitors. You may use the tool to assist you invite participants to your forthcoming webinar via a variety of channels, including emails, phone calls, and text messages.
You can stream live webinars on all social media sites, including Facebook, YouTube, Vimeo, and others, with the help of the webinar platform. You can even link it to any device, including smart TVs, computers, and mobile phones, and operate from any of them.
LiveWebinar features:
BlueJeans
BlueJeans Events is one of the four distinct video conferencing solutions it provides. Town halls, interactive events, and live broadcasts can all be held utilizing this virtual event platform at significant international events.
Up to 50,000 people can be accommodated on this production-grade platform, which offers distinctive content experiences like Q&As, immersive multimedia, and live polling.
This application would have been ideal for managing our companies' weekly employee all-hands meetings while I worked in the tech sector. BlueJeans Events provides live, interactive forums where large audiences can exchange information and express their thoughts.
We could have hosted our weekly all-hands meeting using BlueJeans Events instead of relying on tired old technology like Skype or Zoom. The key thing about BlueJeans is that it's not just another video chat app—it's an entire ecosystem of tools designed to make your meetings easier and more engaging for everyone involved.
BlueJeans features:
EasyWebinar
The only online software platform that has been able to properly and smoothly combine webinar technology with marketing strategy is EasyWebinar. Additionally, it offers a complete solution for both live and automatic webinars. A multi-presenter option, interaction with well-liked email marketing software, shopping carts, and lead generating tools are just a few of the many other features available in the webinar program.
With this platform, you can easily organize any type of event via live or automated webinars. The software allows you to easily manage all aspects of your events from start to finish: from creating an attractive landing page for your event to scheduling your participants' attendance and even collecting payments in real time during the event itself!
EasyWebinar even comes with a built-in chat feature that allows you to communicate directly with your audience members during the presentation itself. This feature makes it easy for participants to ask questions or request additional information about products or services being presented by presenters during a webinar session.
EasyWebinar features:
WebinarGeek
Have you ever wanted to host a webinar but didn't want to download any special software?
Or maybe you were worried about having to pay for hosting or having limited access to your own audience.
Well, then I've got good news for you! WebinarGeek has all the tools you need to host a webinar on any browser, and it's free!
You can also create quizzes, polls, and live chat with their easy-to-use interface. You can even upload videos from YouTube or Vimeo into your presentation. And if that's not enough, there's also an option to make a hybrid webinar by combining pre-recorded video with live presentation.
So what are you waiting for? Sign up today!
WebinarGeek features:
On24
There are a lot of options for webinar software, but ON24 is a great choice if you've got a big event coming up and want to make sure it goes off without a hitch.
G2Crowd has over 740 ON24 reviews, demonstrating the platform's longevity and the quality of user feedback it has amassed.
Creating, scaling, and customizing compelling webinar, virtual event, and multimedia content experiences is simple with ON24. This software differs from others in that it places equal emphasis on both large-scale user conferences and webinars.
They give users the option to build live webinars as well as "content hubs" where they can store continuously updated content. The best part is that you can completely tailor these experiences to meet your business. Even for the most prestigious digital conferences or events, in-depth statistics allow you to comprehend involvement.
On24 features:
Google Hangouts
Google Hangouts is a free online software that can be used to hold a webinar. You will need to have your own channel on YouTube and a Chrome browser to use it.
Up to 30 individuals can attend the webinar in small settings, or it can be broadcast to a larger audience via a live YouTube stream.
Either way, the webinar is recorded during broadcasting and becomes available as a YouTube video after the event is finished. The creator then has the option of making the video public or private.
Google+ Hangouts is very popular in the corporate world because it allows handy features for inviting members. Additionally, a webinar might have multiple speakers and can be easily shared once it is completed.
However, it is not suitable for paid events since there is no option to make the stream private. For this reason, we typically consider Google Hangouts to be more for video conferencing than for webinars.
Google Hangouts features:
DaCast
DaCast is a webinar platform that provides an alternative approach to pricing. While most webinar platforms are subscription-based, DaCast offers event-by-event pricing. This means that users may pay for their webinars as they go. Prepaid bandwidth can be used for 12 months after the payment is made.
DaCast also offers a subscription-based plan for those who hold webinars regularly. With DaCast, users can stream from their website or over social networks including Facebook, or any other way they choose.
In addition to charging for paid events, the account holder can set geo or referrer limitations, watermark the broadcast, and add watermarks.
DaCast features:
MyOwnConference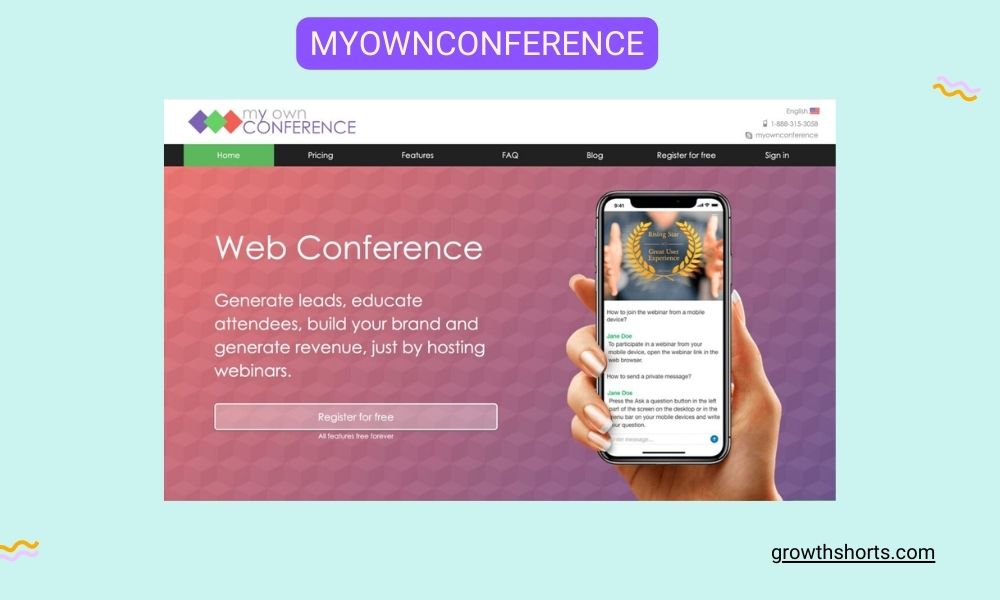 MyOwnConference is a cloud-based video conferencing platform that allows you to host webinars, video conferences and online meetings with ease.
It's a relatively stress-free experience with a simple set up process. This solution checks most of the essential webinar feature boxes, making it a feasible choice for smaller enterprises. Participants can join in using any web browser on a desktop or mobile device without downloading any software. For a multi-media webinar, easily show YouTube videos while sharing your screen.
MyOwnConference features:
Adobe Connect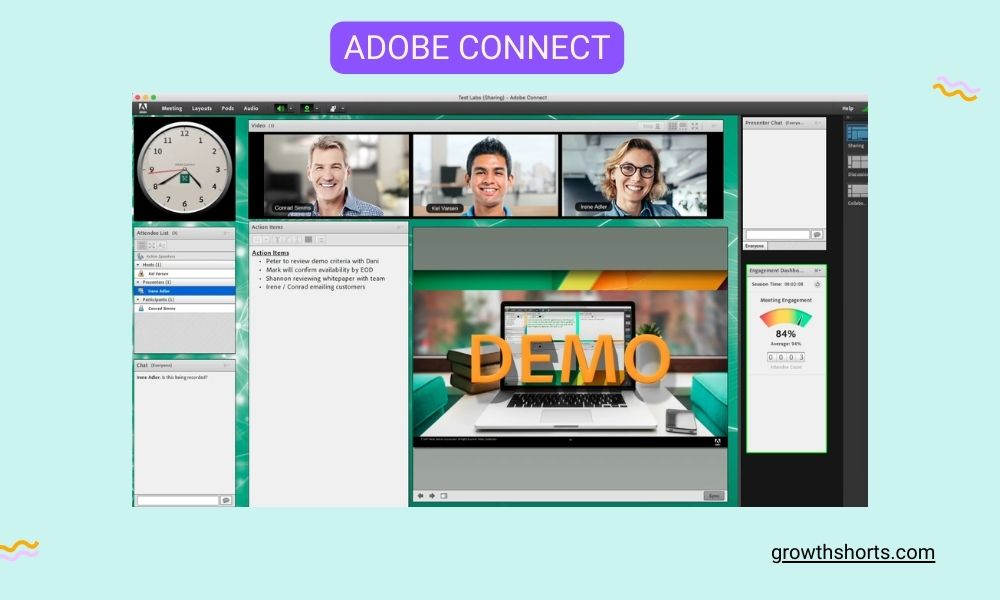 Adobe Connect is a platform that makes it easy to create engaging, interactive experiences for your audience.
With Adobe Connect 11, the platform is even more accessible and has an enhanced user experience with modern HTML browsers and a new Windows desktop application.
The user interface has been updated to be more responsive, minimalistic, and straightforward. Additionally, you can manage breakout sessions, create layouts, and save fluid recordings easier with improved host controls.
Create functioning windows called Pods to add personality to your hosting spaces. Layouts are essentially digital storyboards that you can make by just adding a name, position, and size. You can use the set of custom apps provided by Adobe Connect to increase the functionality of your Layouts or you can use their new HTML SDK to make your own applications.
Adobe Connect features:
WorkCast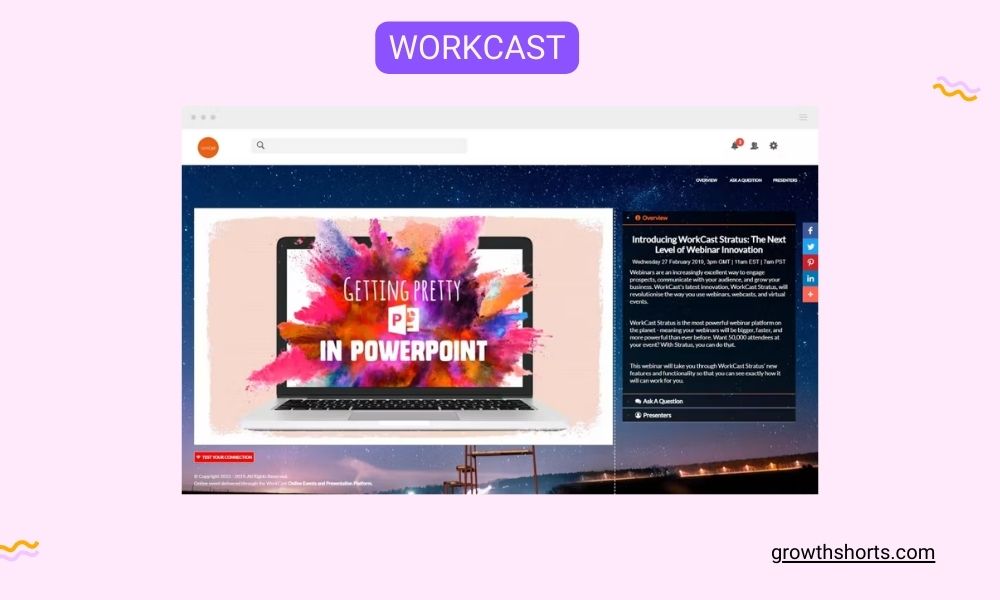 WorkCast is the webinar platform that brands itself as "created for marketers." It's simple to use, and it has many helpful features. WorkCast has you covered whether you're producing evergreen content, hosting live or on-demand webinars, or doing a combination of all three.
Integrations with all of the most popular CRMs (customer relationship management systems), including HubSpot, so you can track your leads and follow up automatically.
To host, participate in, or present at webinars, no downloads or plugins are necessary.
The option for simulative webinars uses pre-recorded video combined with a live Q&A session or presentation. All of the benefits of viewer engagement, without all of the stress of organizing a live webinar!
Loom
Loom is a platform for screen recording software that enables users to asynchronously share webinars, instructional films, and other presentations with audiences.
With over 14 million users, Loom is trusted by small businesses and Fortune 500 companies alike. Some of our favorite features include:
Webcams and speakers' screens can both be recorded for a more personal experience. Asynchronous recordings make it easy for recipients to watch when it's convenient for them—no need for logins or passwords! Recipients can also interact with the video through the use of emoji reactions, time-stamped comments, and interactive features. This keeps your team connected in a way that feels natural and engaging.
Loom recordings are available without any logins or passwords so recipients can access your recordings with a link—no passwords needed!
Freeconferencecall.com
One of the few completely free webinar platforms is freeconferencecall.com, and it's still a potent alternative.
Freeconferencecall.com features:
Zuddl
Zuddl is a live webinar platform that lets you create a virtual convention in just minutes.
With its software, your audience can feel like they're walking into a real event with unique widgets, hotspots, buttons and iFrames to create an experience just like a physical convention.
Zuddl also has inbuilt ticketing and email tools that let you create customized registration pages and disburse paid or unpaid event passes through automated emails.
And there are mobile apps available for both Android and iOS-based devices so attendees can join the event while being on the move.
Riverside
Riverside is a remote platform that lets you engage wide audiences in real-time.
It offers consumers crystal-clear, uncompressed audio and supports up to 4K video resolution, so it doesn't cut corners. What we adore about it is this:
Users can concurrently broadcast webinars on a variety of other websites, including YouTube, LinkedIn, and others. During programs, live viewers can comment or provide comments.
Up to eight people can participate in lively discussions.
BigMarker
The most configurable platform for webinars and online events is called BigMarker. Whether you're looking to host an intimate discussion with a few dozen people or a massive event with up to 10,000 attendees, BigMarker has got you covered.
The platform is browser-based, so no downloads are required to access it. You can easily add third-party apps to your toolbox, such as Twitter and Facebook integrations for promoting your content and monetizing your webinars. You can also measure everything from the number of people in attendance at each event to how many times someone has clicked on an ad within your presentation.
Jumbo
Jumbo is a new webinar software platform that simplifies the live-streaming process.
It's made to be compatible for PC and mobile devices, so you can present your content anywhere, anytime. The service also provides a no-fuss way to run webinars that customers can enjoy with features such as:
White label formatting to let your brand be the main focus of any webinar.
Live chat, breakout sessions, polls, quizzes, and user profiles are just a few interactive tools that can let your audience interact more deeply with your material.
An intuitive user interface that is easy to use even for those who aren't tech-savvy.