If you're not using the right social media marketing tools, your strategy may fall flat before you even give it a chance.
Social media marketing is all about engaging with your audience and building relationships—but that can be incredibly difficult when you don't have the right tools to do it. The effectiveness of your brand can be dramatically changed by effective social media marketing, but you cannot produce or distribute worthwhile content, draw in new audiences, or encourage meaningful engagement without a toolkit of specialized, potent tools that are in line with the objectives of your organization.
The list of marketers' responsibilities never stops growing. Luckily, we've done a detailed breakdown of what you should be looking for in each social marketing solution so you don't have to! Let's dive in:
 Looking for something specific? Use these links to navigate directly to the section that best suits your needs.
Table of Content
Social media scheduling tools
---
Tools for scheduling social media posts are a terrific way to save time.
With these tools, you can compose posts, curate content, queue and organize posts so they're ready when you're ready, and even schedule posts in advance.
The market is flooded with many kinds of social media scheduling software for anything from post creation to content selection to queuing and planning. They all, however, want to save time.
Every marketer is aware of the time loss caused by switching between networks. Your workday can be an uphill battle against content scheduling if you multiply that amount of time across all of the social properties you oversee.
Reclaim your time, not to mention your sanity, by seeking out interactive tools that will make it easier for you to manage your workload without wasting hours on useless steps like composing a post or scheduling it for days ahead of time!
Sprout Social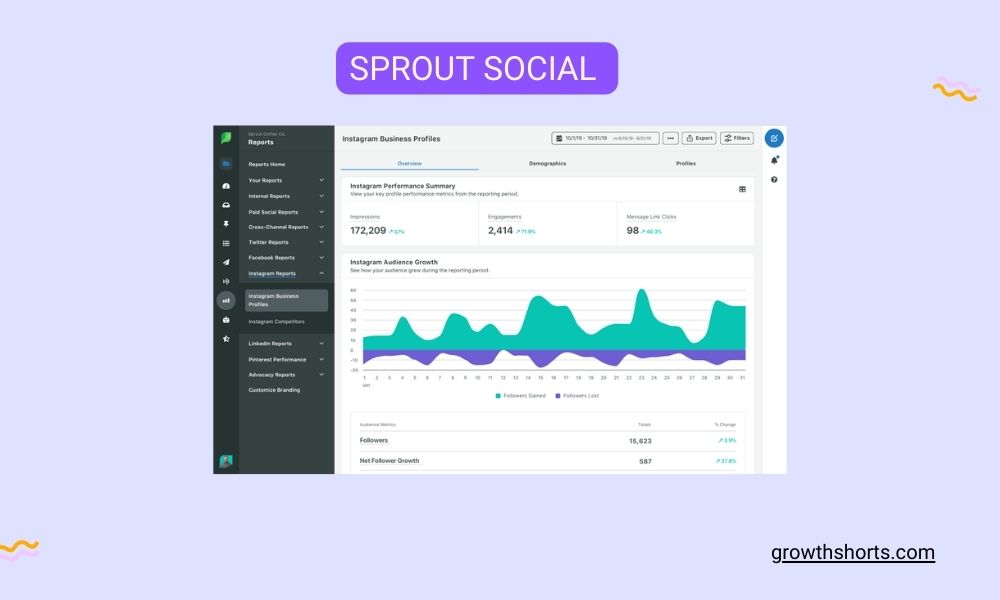 Sprout Social is the ultimate social media management tool for brands looking to increase engagement, grow followers and optimize campaigns.
Customers of Sprout, including small businesses, large corporations, and advertising agencies, gush over the platform's seamless planning, management, and distribution of content and campaigns across social networks.
Starting off, switching between networks constantly is a major time-waster. Take into account the fact that the majority of brands now actively post material across many social media channels. Your most recent Instagram photo, Facebook post, and Pinterest pin may all be published simultaneously using Sprout.
To better categorize and report on messages, you can quickly apply custom tags. You can then utilize Sprout's simple social media analytics to assess impressions, engagement, follower growth, and much more.
Sprout is the ultimate optimization tool for organizations wishing to optimize their social presence in addition to scheduling content, from hashtag analysis to finding top-performing content. Even Sprout's social ad reporting will help you maximize the return on investment from the scheduled paid content.
CoSchedule
CoSchedule is a social media management tool that focuses on streamlining the content creation process for marketers.
Saving time is a theme that runs across almost all social scheduling tools. CoSchedule emphasizes efficiency for marketing teams and individuals alike, with features like an automated "Top Content Report" that lets you see which pieces are resonating most with readers, as well as a comprehensive "ReQueue" Bucket that allows teams to recycle and schedule their best messages automatically without having to lift a finger.
More recent material appears in your brand's feed more quickly as a result.
CoSchedule integrates with company blogs via WordPress, allowing brands to publish and push content to social media simultaneously. Additionally, CoSchedule provides a comprehensive "Top Content Report" which documents social shares and engagement—a fantastic feature for content creators looking to figure out which pieces are resonating most with readers.
Feedly
Feedly is a tool that helps you manage your social media feeds, so you don't have to scramble for news and relevant pieces to publish.
There is no doubting that content curation is one of the most difficult aspects of social media scheduling for marketers.
It can take a lot of time and effort to search for new content. You don't want to always post only your own content, right?
That's where Feedly comes in. 
To fill your social media calendar, Feedly's platform automatically curates content. Feedly handles the labor for you rather than you having to search for news or pertinent articles to publish to your audience in-between your own scheduled social media postings. 
Your free time shouldn't be entirely consumed with managing your social media feeds. Marketers are relieved of the burden of continually bookmarking and saving content for distribution in the future thanks to tools like Feedly.
Airtable
Creating content and scheduling it on social media go hand in hand, if you couldn't tell by now. You probably already have your readers in the back of your mind whenever you sit down to write a blog article.
You want people to read it! Maybe not everyone will read it, but if you're going to put all that time into writing a piece, you want it seen by as many people as possible.
To put it simply, that means organizing your content. If you aren't doing it already, start now.
Organizing content and scheduling social media posts are two procedures that are combined by Airtable. Teams or individuals can utilize the platform to plan out future pieces of content as well as how those postings will be marketed across other social media platforms.
Tweetdeck
Looking for a simple solution that's only focused on Twitter scheduling? Check out Tweetdeck.
This platform integrates with Twitter in an instant, and allows you to queue tweets across multiple accounts. Choose a time for your Tweet to go live after setting it up. Nothing flashy, but still functional.
Additionally, Tweetdeck offers customers a thorough Twitter dashboard. You have access to your live feed, notifications, mentions, and other activities in one location.
An entirely free upgrade to your Twitter account is Tweetdeck. Even if you already use another scheduling tool, you might think about having a little fun with the platform.
Planable
Planable is a social media management tool that allows teams of all sizes to collaborate on creating and scheduling content. It promotes teamwork and collaboration while offering several capabilities found in today's social media scheduling tools.
The Planable mechanism for commenting on and approving scheduled social media postings stands out the most. To make last adjustments to scheduled material before it goes live, team members can exchange comments back and forth. When working as a team within an agency, users can either wait for client approval or internally approve the posts.
Roles and permissions enable collaboration between several departments so that everyone is on the same page. As a post moves from Point A to Point B as a result, there are fewer bottlenecks and more transparency.
Sked
If you're looking for a way to schedule Instagram posts without having to log in and out of the platform, Sked Social might be the answer. Due to a recent rebranding, it is no longer known as Schedugram, although it does have some noteworthy Instagram scheduling capabilities.
Users can prepare photographs, captions, and hashtags in the content queue for re-use. The platform offers a drag-and-drop preview of your Instagram posts in real-time before they go live, similar to Later. If you're not satisfied with the aesthetics of your feed, this enables quick and simple alterations.
Also helpful creative touches to make your articles stand out are the built-in post themes and the selection of photo editing filters. For those using Instagram to create visual material, the platform itself is very user-friendly.
Social Post Planner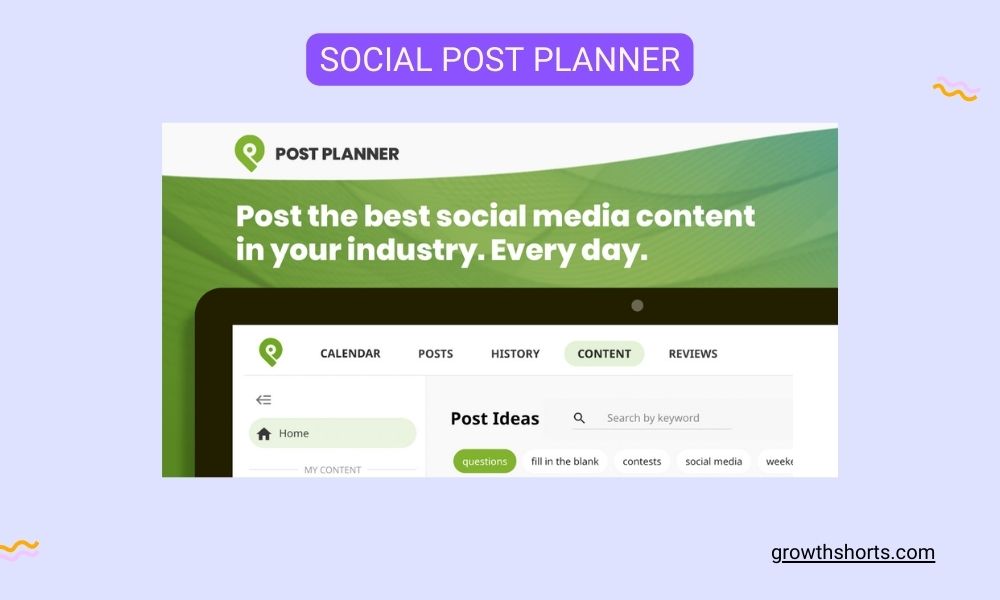 The key to social media marketing is consistency. You need to be posting regularly, and the more you post, the more your audience will engage with you.
Post Planner helps you with that. The tool allows you to schedule posts ahead of time so there's less of a chance of missing out on any opportunities for engagement. And it helps you curate content from other sources that would be relevant to your audience.
Post Planner also gives users information about what times are ideal for posting and what types of content perform best with their audience.
Hootsuite
Hootsuite is our favorite social media management platform. It's not just one of the best tools for scheduling posts, it's also one of the best tools for managing your social media presence.
That's because Hootsuite offers all the scheduling options you could possibly need, including basic auto-posting, bulk scheduling, and personalized suggestions for the optimal posting times based on your own social media statistics and results.
Additionally, from a single screen, you may edit and schedule a single post for a number of social media channels. Cross-posting the same content across many accounts is not as effective as this strategy.
Meta Business Suite
A social media scheduling tool called Meta Business Suite enables you to plan out content for Facebook and Instagram (posts, Stories, and ads). It can be accessed via a PC or a mobile app.
Even though this is a native tool, while scheduling Stories with Meta Business Suite, you won't have access to all of Facebook's and Instagram content creation tools. However, text, image cropping, and some stickers are available.
The tool includes a variety of helpful features, including:
Tailwind
A social media scheduling application called Tailwind enables scheduling on Facebook, Instagram, and Pinterest.
Tailwind started off as a Pinterest planner. With its ability to schedule to many boards, interval planning, and a customized publishing schedule, it is still one of the best tools designed for Pinterest scheduling.
You must have an Instagram account to sign up for Tailwind, even if you only intend to use it on Facebook.
Tailwind is easy to use and has some great features—like their ability to plan out your posts and then check in later to see how they did—but it can be confusing when it comes time to create your first post or upload images into each social network.
KAWO
KAWO is the social media scheduler that helps you schedule your posts on WeChat, Weibo, Kuaishou, and Douyin (the Chinese version of TikTok).
KAWO has a calendar view that lets you see when your content will be published. You can also use the scheduling tools to set up your posts in advance and get recommendations about the best times to post.
You can also use KAWO as a social media dashboard for WeChat and Weibo in Hootsuite! Just add it as a social account, and then you'll be able to track both platforms in one place alongside all of your other channels.
MeetEdgar
Do you run a small business or are you an entrepreneur? Are you looking for the best way to automate your social media content?
Meet Edgar—the premier social media management tool for you. Edgar helps you schedule and organize your content, so you can spend less time on marketing and more time on your business.
With our automation features, we automatically generate social media updates for your content, so even when you get to the end of your content queue, Edgar will post new status updates for you. You'll never have to worry about posting at the wrong time again!
Everything that is published with Edgar is stored in an organized library, where it's all arranged into categories: "Quotes," "Blog Posts," or "Cat Puns." To save even more time, Edgar can be connected to an RSS feed so he knows exactly what types of status updates to post at which times—and shares them automatically!
Social media analytics tools
---
You might be wondering how to get a better grasp on your social media analytics. You're not alone! We're here to help.
If your data is incorrect, so is your social strategy. That's why it's important to have the right tools that can help you see how each piece of the puzzle fits into the bigger picture.
Whether you're tracking Facebook impressions, tallying up Twitter click-throughs, measuring follower growth on Instagram or evaluating your LinkedIn engagement—you can't get the full picture of your efforts without the tools to analyze each piece of the puzzle. Social media analytics tools are key to a cleaner big picture.
What can social media analytics tools do?
---
Google Analytics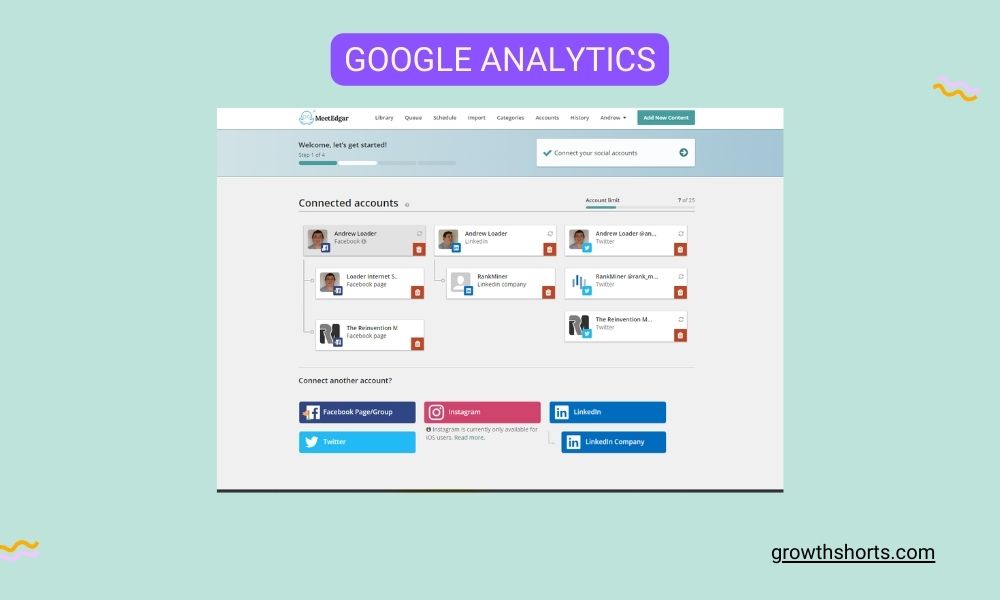 Google Analytics is a comprehensive analytics tool that can be used to track traffic and performance of your website or app.
While Google Analytics is not solely a social media analytics tool, it is one of the best ways to track social media campaigns and even help you measure social ROI. You most likely already have an account set up on your website to monitor and analyze traffic. But did you know you can also access and create reports specifically for social media tracking?
For example, you can see how much traffic comes from each social network or use UTM parameters to track specific social media campaigns.
Google Analytics also allows you to access data about how people interact with your content on social platforms—like when they click on links or share links—and what type of content they like best on each platform.
ShortStack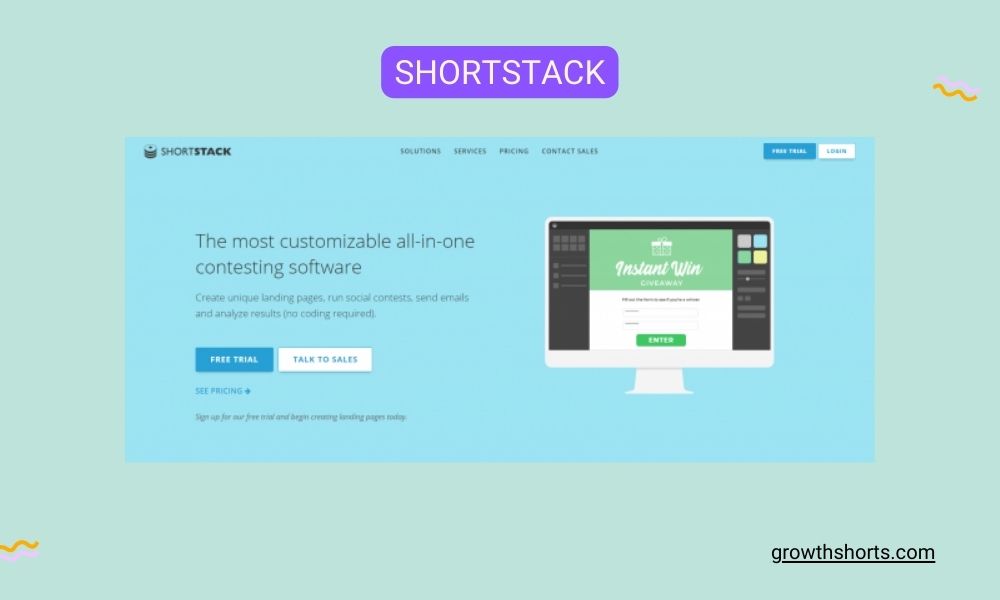 If you're an avid social media user, you're probably familiar with the feeling of seeing a contest or giveaway and thinking, "That's cool—I wish I could do that." Well, you can! Running a social media contest is easier than ever now that ShortStack exists.
ShortStack takes care of all the legwork for you, including picking a winner, analyzing engagement from a giveaway campaign, and more. It's simple, easy to use, and affordable. Plus, it's backed by real humans who are available 24/7 if you have any questions or issues with your account.
For brands running frequent contests or giveaways, using a dedicated contest analytics tool ensures that you aren't just giving away freebies for no reason. ShortStack investigates everything from entry data to long-term campaign performance to accomplish this.
HubSpot
You've probably heard about HubSpot's social analytics tools. If you haven't, let us introduce you!
HubSpot's social media tools will help you tie your social media presence to business growth. Whether publishing directly through HubSpot or using some other tool, you'll be able to track and report on the success of your social strategy across every channel.
What's important to highlight is that HubSpot's social analytics tools are part of HubSpot's Marketing Hub, their all-in-one inbound marketing software system. This means that by utilizing the platform, you will have access to information about the entire customer journey, not just social media-specific metrics. You'll be able to see which marketing tactics are working best for your business, how they're impacting your bottom line, and learn about your social media campaigns ROI (return on investment).
TapInfluence
These days, influencer marketing is a hot topic. With the boom of social media, it's not surprising that brands are looking for ways to get more bang for their buck when it comes to advertising.
But there's no way around it: Influencer campaigns are expensive, so brands need to know they're getting their money's worth before they start. Enter TapInfluence, an analytics platform that helps brands make educated decisions about whether or not an influencer campaign is right for them.
With TapInfluence, brands can see exactly what they're getting when they partner with an influencer: reach (the number of people who will potentially see your content), engagement rate (how many people interact with the content), and potential price tag (how much the campaign will cost). In other words, this tool removes many of the "what-ifs" related to influencer marketing by highlighting relevant metrics in black and white so brands can better understand whether or Prior to outreach, it makes no sense to pursue a potential relationship.
In addition to individual influencer metrics, TapInfluence also measures the performance of overall campaigns against industry benchmarks so that you can see whether or not your campaign is performing well compared to others in its field.
BuzzSumo
BuzzSumo is a social media tool that allows you to analyze the performance of any piece of content on Facebook, Twitter or Pinterest.
For example, if you want to see how many shares your latest blog post received on Facebook, BuzzSumo can provide you with that data.
You can also track the performance of content competing for relevant industry keywords, which will allow you to see how your content marketing campaigns compare to the competition.
Social media remains one of the most important content distribution channels. Analyzing social shares allows you to see which types of posts get the most engagement and use that information to inform your own content strategy. BuzzSumo can also assist you in understanding top-performing content variables such as length, publish date, and headline type.
Snaplytics
Have you ever wondered how much your followers are seeing your Instagram Stories?
Or how many of your Snapchat posts get watched from start to finish?
Snaplytics is a powerful tool that measures the effectiveness of your ephemeral content on social media.
The platform analyzes metrics like open and completion rate, allowing brands to see where story engagement peaks and where viewers drop off.
The importance of optimizing story-based content is something that modern brands should ignore at their peril. Although Snapchat may have lost favor with some brands, keep in mind that the network still has hundreds of millions of active users among millennials and Generation Z. Meanwhile, Instagram Stories are one of the most popular ways to promote yourself on the platform. Going beyond native analytics is a wise move for brands that want to create more compelling Stories or run story-based ads in the future.
Curalate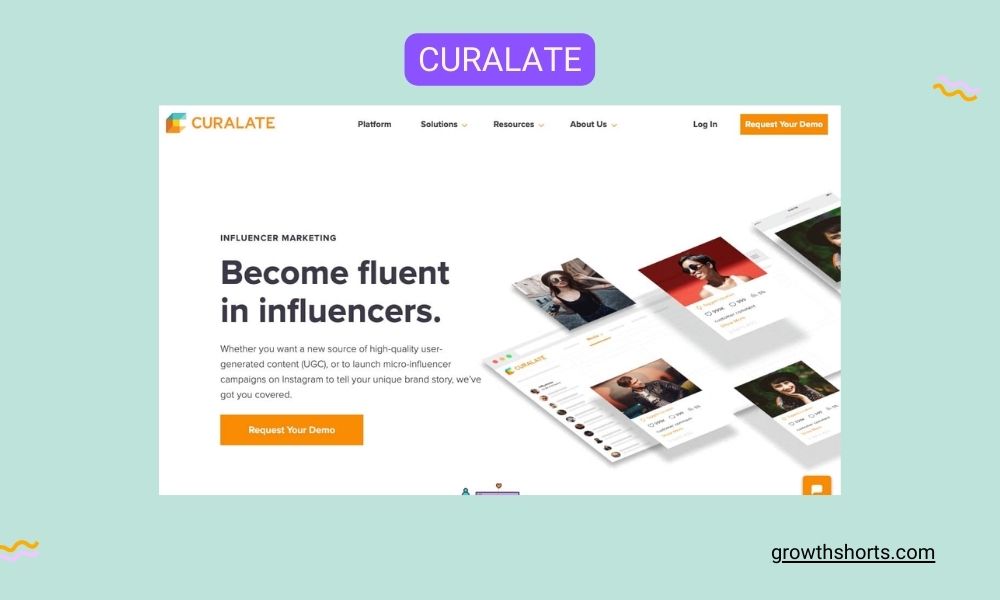 As you may be aware, Instagram is one of the most popular social platforms. Direct social selling is becoming increasingly popular among brands.
However, it can be hard to know which products are performing well in your business' Instagram feed.
Curalate is a hybrid storefront and analytics tool for businesses looking to maximize their Instagram sales. The Curalate platform enables businesses to determine which products generate the most clicks and sales. As you learn which types of posts resonate with customers, this can directly inform your future campaigns and product strategy.
Curalate also tracks product tags and mentions, making it simple to identify and analyze the performance of user-generated content campaigns.
Keyhole
Hashtags are a great way to expand your content's reach and get more eyes on it. But if you're not using them correctly, it can actually do the opposite of what you want and make your content less popular.
That's where Keyhole comes in. This tool provides real-time performance analysis of the industry and campaign-specific hashtags on Twitter and Instagram—so you can see which tags are most popular among your followers.
Brands can use Keyhole to promote during peak times and learn which tags are most popular among their followers.
Social media listening tools
---
Using more advanced features, social media listening tools enable you to analyze and respond to insights gleaned from social monitoring. These tools work together to help you meet higher customer expectations and improve overall brand health.
Social media listening tools help you identify problems with a specific post or tweet, and even track mentions of your brand or product on social media. They can also be used as part of a larger strategy to monitor your competitors' activities on Twitter.
In addition to monitoring posts on social media platforms, social listening tools allow organizations to keep track of all their customer service channels like emails and phone calls through real-time email or SMS text message notifications.
What can social media listening tools do?
---
Social media listening tools can do a lot of things!
First, they can show you the general sentiment social users have to a specific topic or brand. That way, you know what people are saying about your company or product before they've even had the chance to come in and talk to you about it.
Second, they can analyze entire campaigns quickly and enable you to create succinct reports. This means that when you're in charge of an entire campaign, as opposed to just one aspect of it—like the marketing team—you can get an overview of everything that's happening overall.
Third, they'll identify trends in your industry long before they become the newest hot topic. This means that if there's something going on in your industry that nobody else is talking about yet (like an upcoming new product release), then this kind of tool will be able to let you know about it before anyone else does and give you time to prepare for it—or even take advantage of it!
Fourth, they'll identify industry gaps, track share of voice and understand consumer attitudes toward competitors—all so that you can uncover business opportunities that haven't been tapped yet!
Falcon.io
Falcon.io is a social media management and customer experience (CX) platform for medium-to-large businesses. The software can schedule, engage, listen to social media, publish, advertise, and analyze all aspects of your social media strategy. The platform allows you to easily segment and target your customers for personalized social campaigns.
Falcon.io provides a suite of tools that helps businesses maximize their social performance in order to boost sales and grow their audience. You can use the platform to schedule posts across multiple channels with ease while also being able to see who is engaging with your content. Falcon.io also lets you create customized campaigns based on the interests of specific groups of people while tracking their behavior over time so that you can improve upon their experience with each interaction they have with your brand or company over time.
Features and Compatibility
TweetReach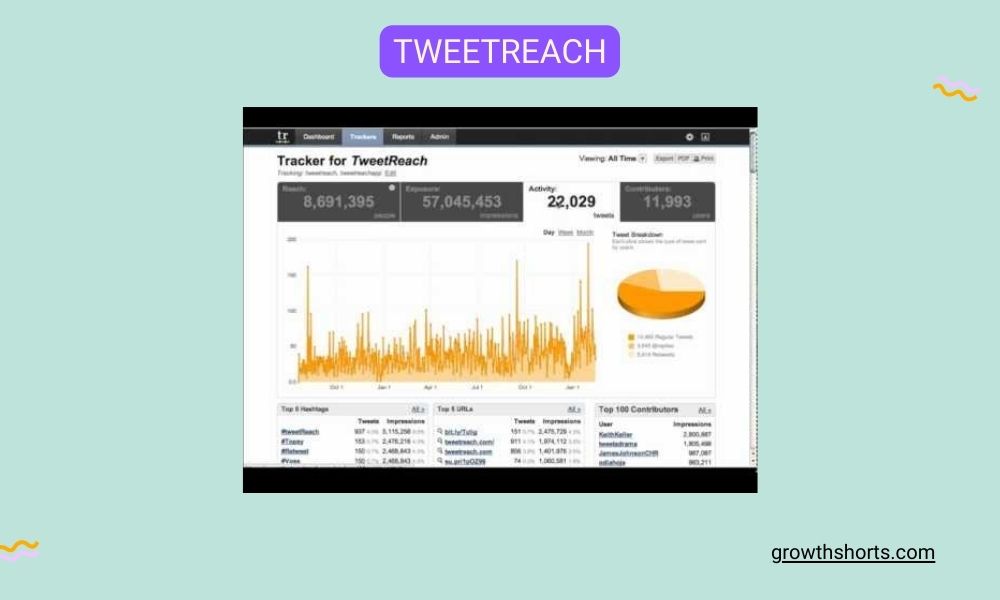 If you're looking to analyze Twitter reach, TweetReach is a great tool. It examines reach with a specific keyword, person/Twitter handle, or hashtag.
The tool also analyzes impressions, mentions, and the times when the most relevant Tweets to your business are shared. Furthermore, TweetReach assists you in determining who your most influential followers are so that you can target them with your content.
Features and Compatibility
BuzzSumo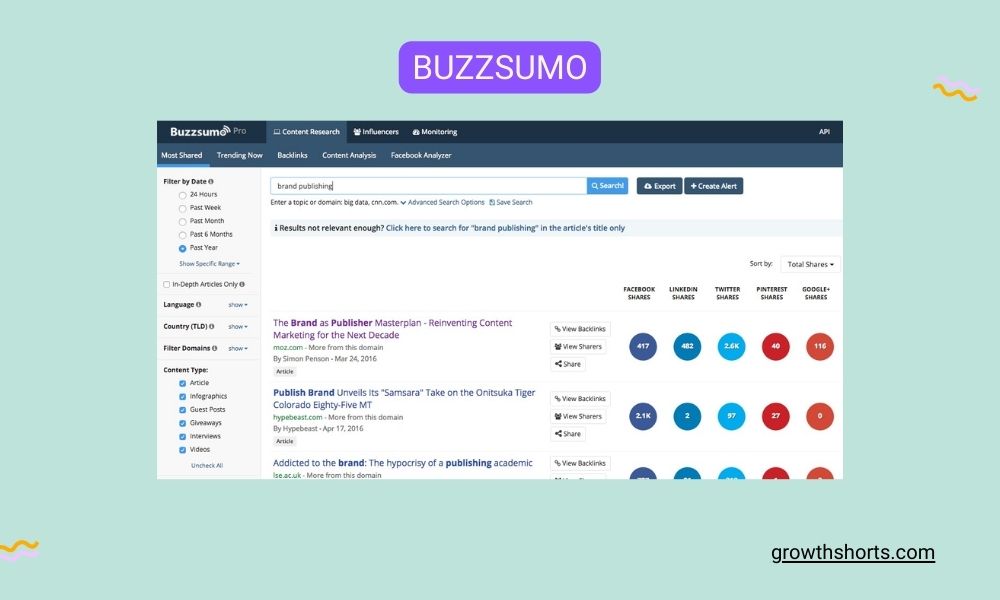 If you're a Facebook user, you've probably noticed that the platform is changing. It's no longer just a place to share your favorite memes and connect with friends—it's becoming more of a business tool. And if you're looking to grow your business on Facebook, it can be hard to know what kind of content will work best.
That's where BuzzSumo comes in. The tool shows the number of impressions and shares certain posts have, making it easy to analyze your success on Facebook.
BuzzSumo offers insight into your Facebook content so that you can identify which types of posts garner the best results among your audience. It even tells you which days and times of the week you should post and what the ideal post length is for each platform.
Features and Compatibility
Keyhole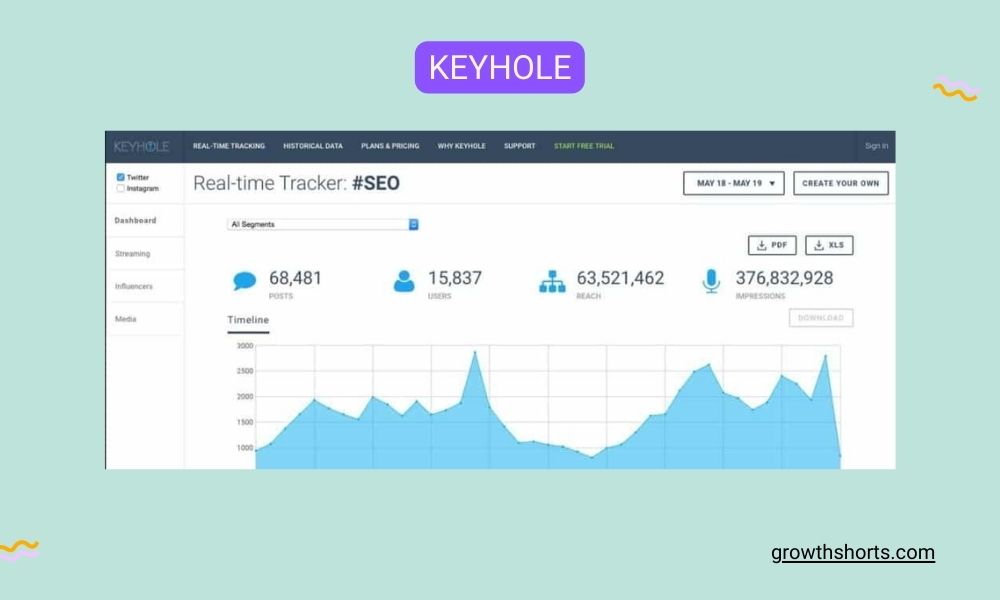 Keyhole is an incredible tool that helps businesses understand their audience on Twitter and Instagram.
Keyhole focuses on brand analyses and can track hashtags, mentions, usernames, and more across both of these social media platforms. It investigates the reach of a specific keyword, person/Twitter handle, or hashtag.
The tool also analyzes impressions, mentions, and the times when your company's most relevant Tweets are shared. TweetReach also helps you determine who your most influential followers are so you can target them with your content.
This allows you to better understand your target audience and how to interact with them effectively.
Features and Compatibility
Mention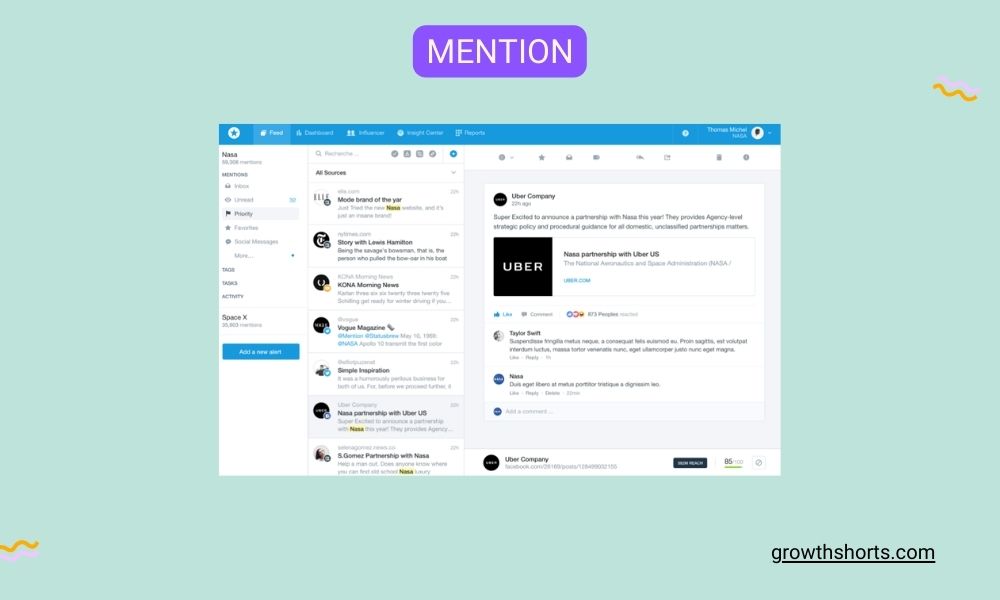 If you're looking to stay on top of your game, you should be using Mention.
Mention can monitor brand mentions all over the world by tracking millions of content sources in 42 languages. You can select what content you'd like to tune out so you're only paying attention to trends that matter.
There is a competitive analysis tool that allows you to compare your brand to two or more competitors, ensuring that your content is always relevant, timely, and unique to your brand when compared to other industry leaders.
Features and Compatibility
Awario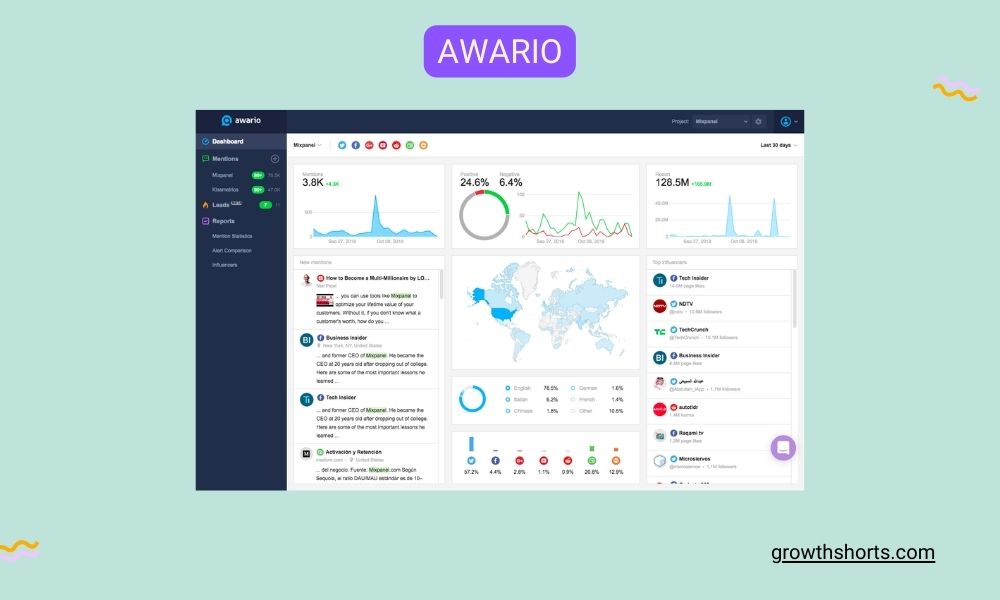 If you're looking for a way to grow your brand awareness and build meaningful relationships with your target audience on social media, Awario is the solution for you.
Awario is a social listening tool designed to increase brand awareness. It operates by tracking keywords in a variety of languages. For businesses looking to increase their global consumer base through social media participation, this solution works wonders.
The platform offers all the tools you require to engage with your target audience on social media in meaningful ways while also monitoring and responding to comments.
Features and Compatibility
Oktopost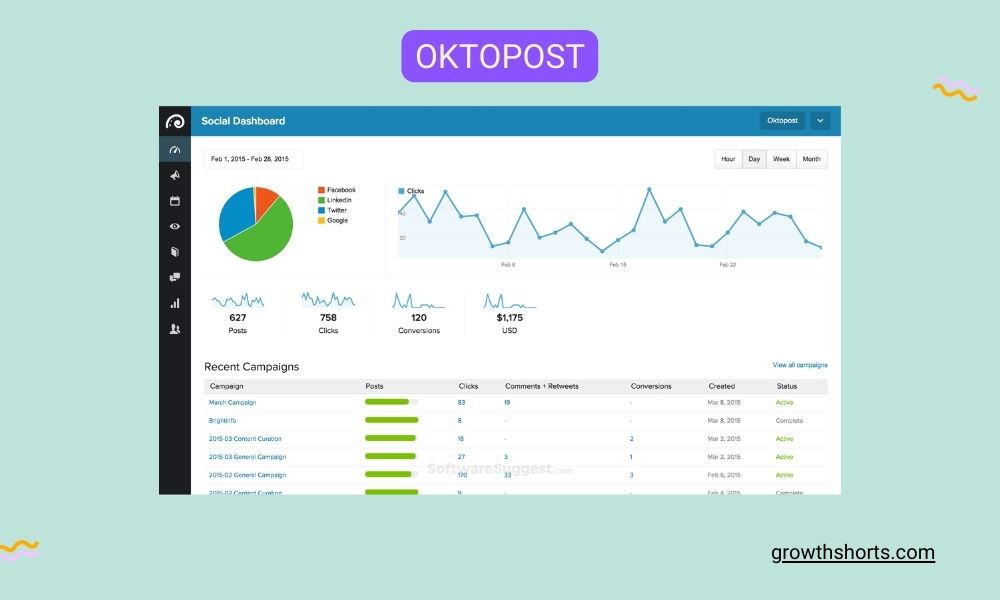 Oktopost is a social media management tool designed for B2B marketers to track and analyze all social media activity.
The tool includes features for managing and understanding social media campaigns, editorial calendars, content curation, growth, and social listening.
The first function of Oktopost is social employee advocacy: this allows you to monitor your employees' interactions on social media so that you can keep track of what they're sharing about your brand or company. You'll be able to see which employees are participating in interactions, who they're talking to, how much time they spend posting on social media each day (and week/month), and more—all with the goal of boosting productivity and engagement among your entire team.
The second function is social promotions: this feature helps you create promotions that can be posted across multiple channels at once. It also allows you to analyze the impact those posts have had on different channels so that you can use the most effective strategies going forward.
The third function is content curation: this feature helps you find relevant content for your audience on various platforms so that you don't have to waste time searching through every single article or piece of information out there yourself.
Features and Compatibility
Social media monitoring tools
---
Social media monitoring tools are helpful for a lot of things, but they're often used interchangeably with social listening. This is a disservice to both methods.
Social media monitoring helps you understand the "what" in social conversations, while social listening helps you understand the "why." Think of it as collecting and searching for data from social conversations that will enhance your understanding of your audience and the way you interact with them.
When looking for a tool, remember that monitoring isn't an alternative to Enterprise-level listening tools—it's just one part of the whole picture. So first assess your needs: If you're starting out and your immediate needs can be met with a tool that will help you track mentions on social media, stick to prevent being overpowered by a listening suite's full capabilities, with proactive monitoring tools. Regardless of your current business objectives, any marketer will tell you that using monitoring and listening solutions together is the best course of action.
Nexalogy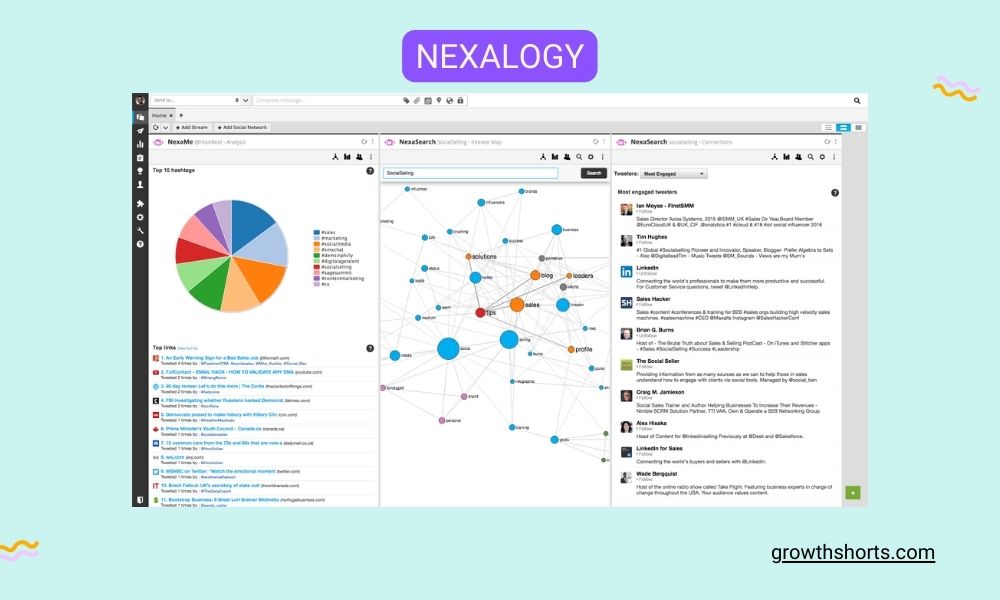 Nexalogy is a data science platform that helps you understand your audience and what they are saying about you. Whether you're managing a community or launching a new product, Nexalogy will help you better understand your users, so that you can improve their experience with your brand.
The superior data visualizations offered by Nexalogy set it apart, including interactive timelines, heat maps depending on geography, and lexical cluster maps that display topical tendencies. Additionally, there is "basic" information like the most searched-for phrases and active accounts, which would take a human being weeks to understand.
Cyfe
Cyfe is a tool for centralizing insights from your media activity (as well as site data, sales journeys, marketing spend, and customer support) into widget-filled dashboards. Because the emphasis is on visualization rather than interaction, you'd be better off using a tool like Meltwater or Hootsuite if you need both monitoring and interaction functionality.
For example: say you want to see how many clicks your website is getting on a daily basis. Cyfe will let you do that by displaying the relevant information in one of its widgets. You can also track how many people are visiting your site every day and how often they come back, or see how many people have been calling your phone number recently.
Talkwalker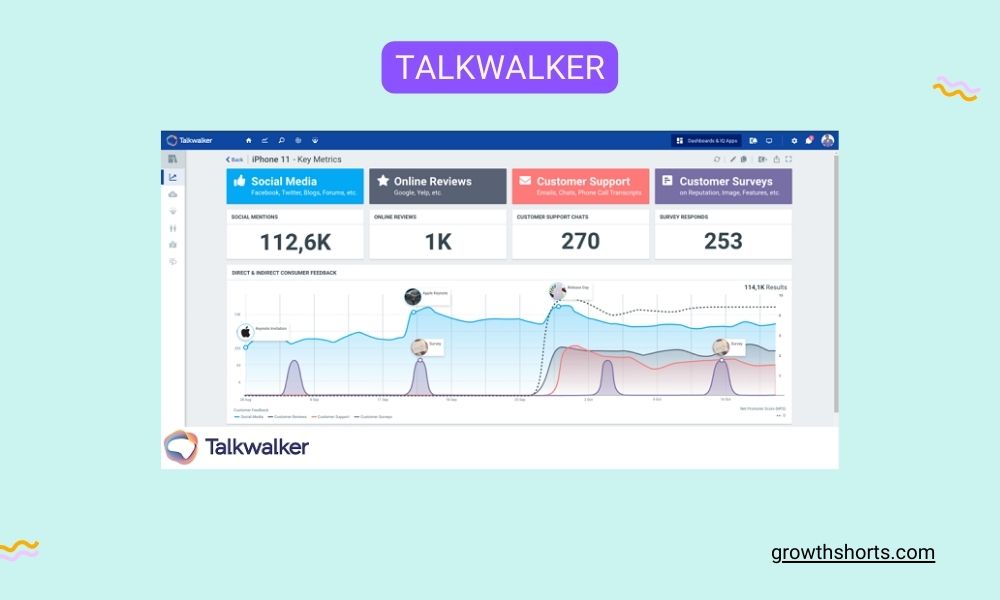 If you're looking for a social media monitoring tool, Talkwalker is a great option.
Talkwalker is an advanced monitoring and insights tool aimed at large agencies and global brands seeking insights on consumer sentiment, relationships with public figures, competitor benchmarking, and reputation management.
Depending on your package, you can collect data from over 150 million websites and 20+ social channels. In addition, the entry-level package includes a year of retrospective data, which is extended to two years in the full subscription.
The analytics dashboard breaks down social activity into the core metrics: mentions, sentiment, hashtags, engagement. Use pre-built dashboards to monitor brand health, gain audience insights, and analyze campaigns, or create custom dashboards to track specific topics and keywords.
Digimind Social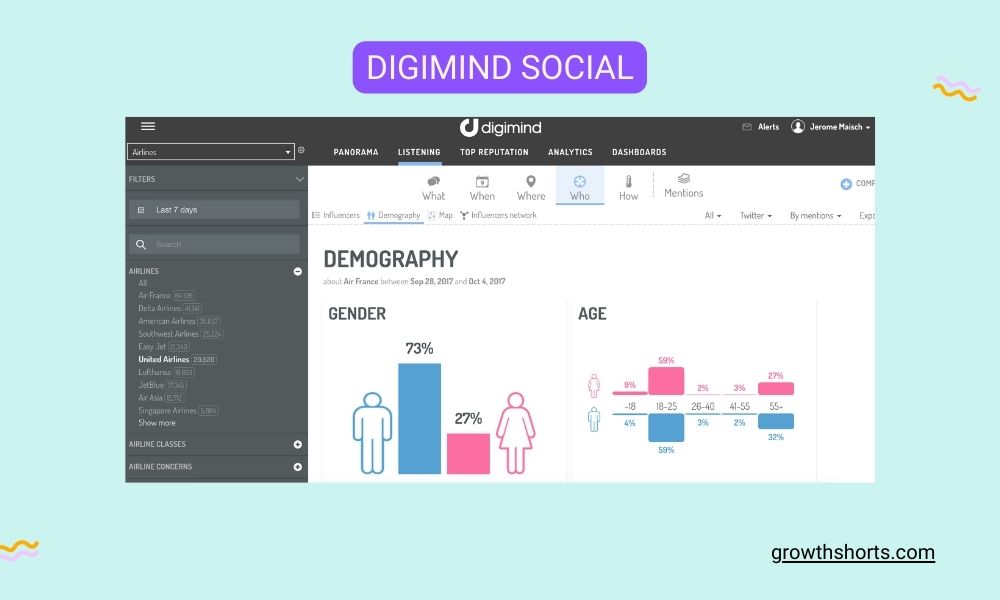 If you're looking for a tool to help you publish content and manage conversations with your audience, this isn't it. However, if you're looking for a tool that specializes in uncovering insights into how people feel about your brand, competitors, and industry, Digimind may be the tool for you.
Digimind is best suited for understanding brand reputation and less so for comprehensive social media tracking. You can use the platform to search for brand mentions and gather reader sentiment data from your primary networks as well as millions of publications.
Brand24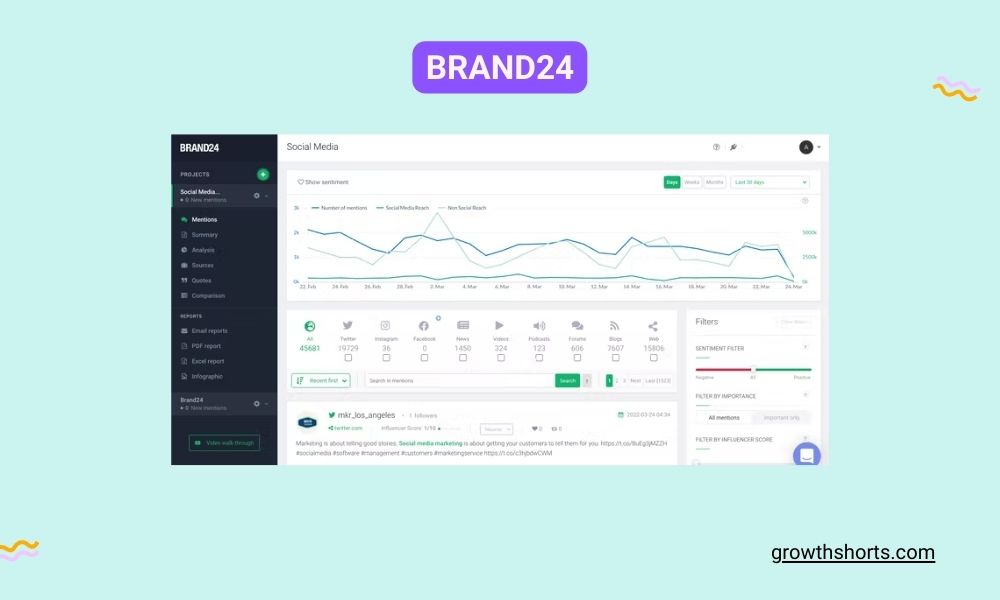 Brand24 is a social media monitoring tool that helps you track mentions of your brand and keywords, as well as public figures.
It works best for middleweight analysis and reporting, but not so well for extracting high-level insights.
Brand24 allows you to track brand mentions and conduct keyword searches across your primary channels as well as blogs, news sites, and visual platforms such as Instagram and YouTube. You can also use the Mentions and Analysis dashboards to understand the sentiment and online activity of public figures. Your analysis can then be exported into templates, custom reports, or visualizations such as graphs and word clouds.
The social listening functions of Brand24 are solid, but if you want to get deeper insights on ROI and social metrics, you'll need to look to a more advanced tool.
Synthesio
If you're looking for a reporting tool that can be used by enterprise or global brands, Synthesio is a strong contender. With a focus on interactive dashboards and data visualization, Synthesio can help you monitor your audience, extract key business insights, and prove the wins of your marketing efforts.
Synthesio's reporting capabilities include multiple interactive dashboards that allow you to see how your brand is performing on social media. You can see which keywords are most popular among your followers and where they are located geographically. The reports also include specific metrics like reach and engagement rate as well as an emphasis on KPIs in order to demonstrate ROI.
Social media automation tools
---
You know that feeling you get when you're scrolling through your Facebook and Twitter feeds, and you see an automated message or a bot pop up? It's like being asked to answer a question that you don't remember reading. It's frustrating, annoying, and just plain weird.
But it doesn't have to be that way!
The key to effective automated marketing is not to rely too heavily on automated tools to do what a human should do—rather, identify repetitive tasks that can be automated without compromising the user experience. This frees you, the human, to handle the more difficult or sensitive items.
It's a common misconception that automation tools are intended to make social marketing more hands-off. But that is not the case. They will undoubtedly save you time and effort, but they will not be able to replace the marketer's brain behind the brawn.
To begin, think about incorporating automation tools, such as social media chatbots, into your social marketing strategy to streamline customer service across Facebook and Twitter. You can quickly create logic-based responses to your customers' questions using a bot.
What can social automation tools do?
---
SocialPilot
SocialPilot is a social media automation and analytics tool for businesses of all sizes, from small to medium to large. You can expect a plethora of features with this social media automation tool, including social media scheduling, calendar management, client management, and more.
Furthermore, it makes no difference which social media channel you use because SocialPilot has your back.
However, you can integrate SocialPilot with multiple social media platforms at the same time, including LinkedIn, Facebook, Pinterest, Twitter, Instagram (Direct Publishing), and TikTok.
With this tool, your team can create a schedule for posting content on all of your accounts at once – freeing up time that would otherwise be spent doing repetitive tasks like posting new content or responding to comments on these accounts. In fact, it's possible to use this tool even if you're not an expert in marketing!
Features and Compatibility
ContentStudio
If you're looking for a great way to keep your social media presence consistent, organized, and clear, then ContentStudio is the tool for you.
ContentStudio offers content automation, content planning, social media scheduling, a social inbox, analytics, and content discovery.
This tool enables you to plan and brainstorm in the Content Planner section of ContentStudio. You can also manage when and where content is shared or published; this occurs in the Content Planner section of ContentStudio.
ContentStudio includes a social media content calendar that enables you to easily view, accept, reject, and edit posts. This reduces the likelihood of sending out incorrect or error-filled content due to poor planning or communication among team members. Furthermore, all team members can easily collaborate on ideas for new posts within this tool. Your social manager, for example, can contribute ideas; your designer can add images; and your copywriter can immediately create captions.
To reduce clutter from having too much information on one page at once—and make things easier—you can also see your content as part of an organized list. To make things even easier still! You can sort posts by type (e.g., blog post), status (e.g., live), member
Features and Compatibility
Scoop.it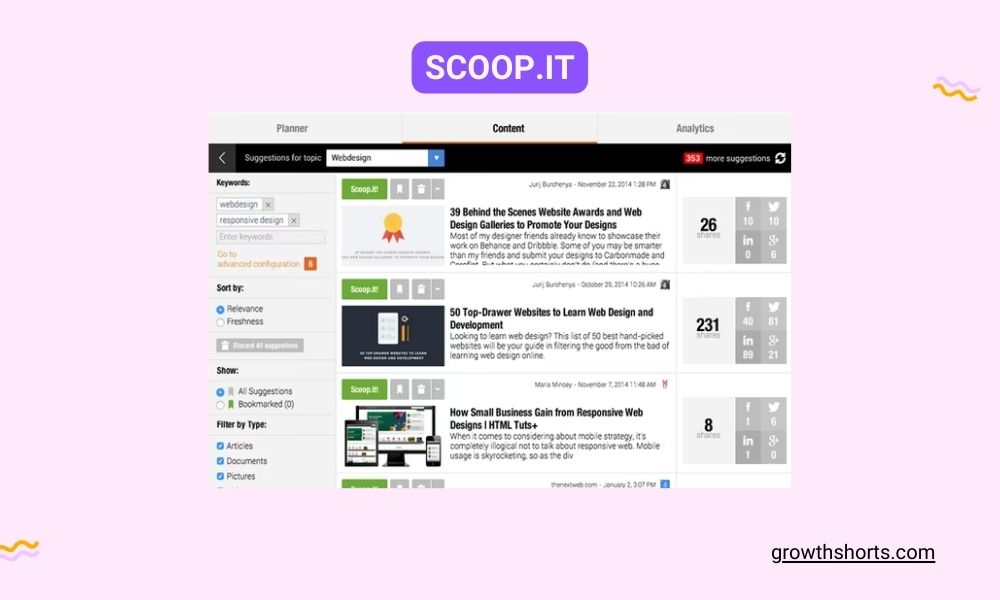 Scoop.it is a social media automation tool that allows users to curate content from other sources and share it on their preferred social media platforms.
It is also one of the best free social media automation tools, with a free plan available to users.
Scoop.it allows you to create specific topics, share your ideas, and connect with others who share your interests.
Users can curate content from any other source using the Scoop.it content director. With the click of a button, you can also share your ideas on your favorite social media platforms.
Users can also generate ideas with this social media automation tool by using specific terms known as keywords. So, if you're a content marketer, Scoop.it will help you stay current and know what to share with your audience at all times.
Features and Compatibility
Sendible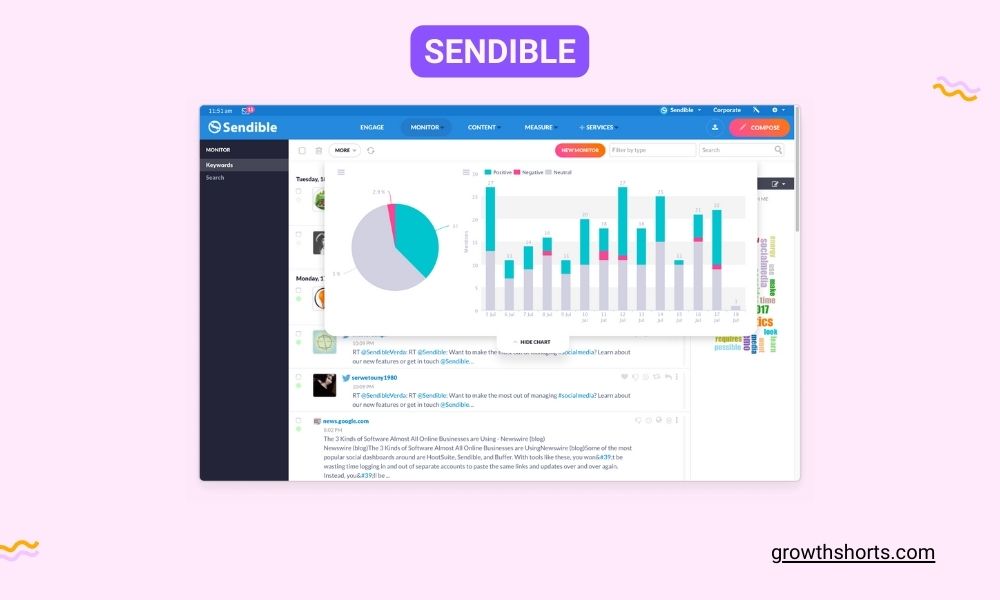 Sendible is a powerful social media automation tool that helps you manage and automate social media channels.
Not only can you schedule one-by-one campaigns on different accounts, but you can also manage how your campaigns go out from your dashboard.
The best feature is the ability to create content and schedule it for a week, month, or however long you require. Furthermore, you can customize your content for different social platforms by utilizing features such as emoji, attachments, and more.
Features and Compatibility
Zoho Social
Zoho Social is an effective social media automation tool that helps you and your team manage brand mentions and social conversations.
Zoho Social is designed to meet the needs of businesses that are expanding at breakneck speed. This social media automation tool will enable you to collaborate with your team while also monitoring brand mentions and social conversations.
It offers an unlimited social media scheduling feature and creates a custom report to analyze your social media. It lets you manage social media platforms like Facebook, Twitter, LinkedIn, Instagram, and Google My Business.
Features and Compatibility
Napoleon Cat
NapoleonCat is the best way to automate your social media accounts.
If you're tired of spending hours going through the same tedious process every week or month, you need NapoleonCat. It offers social media automation not only in terms of content scheduling but also in content moderation.
On Facebook and Instagram, you can program responses to frequently asked questions in comment threads and direct messages. You can define up to 20 different responses to the same trigger, allowing your comments to appear natural rather than robotic.
Furthermore, if you spend hours battling the Excel sheet to display your results, you can say goodbye to manually repeating the process every week or month. With NapoleonCat, you can automate and schedule professional social media reports that get sent directly to your or other stakeholders' inboxes.
Features and Compatibility
Flipboard
When you're a business owner and you're on social media, you want to make sure that everything you post is relevant and valuable. You don't want to waste your time with posts that aren't going to be useful for your followers, but it can be difficult to come up with ideas for what to share.
One way to do this is to look at what other publishers are posting. There are tools like Flipboard that aggregate content from different sources into different categories and can be a source of daily inspiring topics to share on your platforms.
Features and Compatibility
Pocket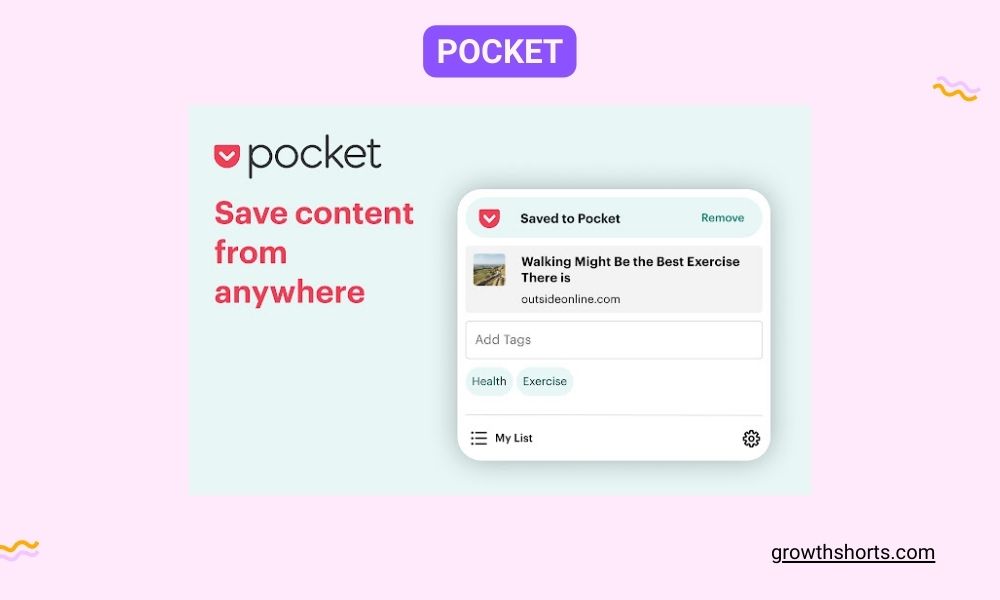 Pocket is a great tool for curating content.
Pocket, like Flipboard, will collect content from across the web. You can also bookmark content in your browser to save it for later (in your pocket), organize it into collections, and then curate it on your social media profiles. It's a great way to limit opened browser tabs while you're searching for inspiration for your content calendar (#truestory).
It's really simple to use: just click the bookmarklet, click "add to pocket," choose the collection that best describes what you want to save, and then share with friends via social media!
Features and Compatibility
Linktree
Linktree is a super-easy way to create landing pages aggregating all of your bio links for Instagram (and also for any other social media profiles). You can use Linktree to create a landing page with links to all your content from social media, so that you never have to update your link in bio again (unless you want to).
Features and Compatibility
Milkshake
You know what's better than a link-in-bio landing page? A link-in-bio landing page that looks like an Instagram Story. That's what Milkshake is all about.
Milkshake is a mobile app with a similar goal to Linktree – it lets you easily create a link-in-bio landing page for free. It's simpler, purely mobile-based, and more visually appealing, allowing you to create your own website with separate "cards" for each of your content pieces – landing pages you can customize swipe like Instagram Stories.
The best part? The cards are all customizable, so you can change colors, fonts and images to suit your needs.
Features and Compatibility
Canva
Canva is a great tool for anyone who wants to create social media images and animations, but doesn't have a designer on staff. It's also perfect for anyone who works with a designer and wants to save time by using pre-made templates.
With Canva, you can choose from hundreds of free templates, design elements, and images that are ready to be customized with your text and imagery. You can also ask your designer to create some branded templates for you in advance so that you can just swap out the text and images without having to ask them every time.
Features and Compatibility
Social Ads Creator
GetResponse's Social Ads Creator is a simple way to create Facebook images or Instagram videos based on pre-made templates for various industries and sales occasions. It's integrated with GetResponse, so it also offers some more advanced features for your marketing and sales content.
You can select from a number of templates, including:
Sales
Events
Promotions
Freebies
Once you've chosen a template, you can customize it to fit your brand or message using the text fields. You can also upload your own images if you don't want to use one of the stock photos provided by GetResponse.
Features and Compatibility
Zapier
Zapier is an automation tool that connects any two apps and lets you automate actions. You can connect your apps to each other, then set up rules that tell Zapier how to respond when certain things happen.
Zaps are the connections between apps that trigger automated actions, so they're what make Zapier work. You can create a zap between two apps and tell Zapier what action to perform when something happens in one app, like when a new contact is added to your Gmail account. From there, you can automate any action you want – maybe sending an email to your assistant with details about the new contact or adding them to a spreadsheet in Google Sheets.
You could also use Zapier as just another tool for organizing data from multiple sources into one place, like connecting Trello with Google Sheets and automatically creating cards in Trello whenever something changes in Google Sheets – like a new row being added to a spreadsheet or someone making changes to an existing card.
Features and Compatibility
Tidio
If you've ever had an automated message from a company—for example, when you try to contact them through Facebook Messenger—then you're familiar with the concept of chatbots.
While they might seem like a novel concept, chatbots are actually just one way we automate conversations. And it's not like you're talking to a robot: chatbots help speed up the conversations happening in your DMs so that your customer can get to what they need instead of waiting for someone to join the discussion and chatbots for different channels.
Features and Compatibility
Facebook marketing tools
---
Facebook marketing tools can help you transform your Facebook strategy. From everything you need for publishing content and engaging with your audience, to analyzing your results, these tools will help you make the most of your Facebook marketing efforts.
Every social media marketer is focused on finding ways to increase Facebook interaction in light of recent algorithm changes. Plan, carry out, and evaluate the ideal Facebook marketing strategy using these tools.
What can Facebook marketing tools do?
---
Social video creators
Social media video creators are a great way to get started with social media. Similar to photos, videos are some of the most shared pieces of material on Facebook. With the aid of free social video makers, you can implement a variety of social media video ideas.
For instance, Wave.video is a cross-platform video editor that you can use to make videos that are appropriate for Facebook Stories or your newsfeed. Wave.video offers a ton of themes and creatives to pick from so you can create the videos we see shared wildly on Facebook directly in your browser. If your business has a blog, a platform like Lumen5 can transform the way you repurpose your material for video.
Briefly said, the platform enables you to turn blog content into social films that are excellent for attracting followers that are active on social media.
Facebook ad tools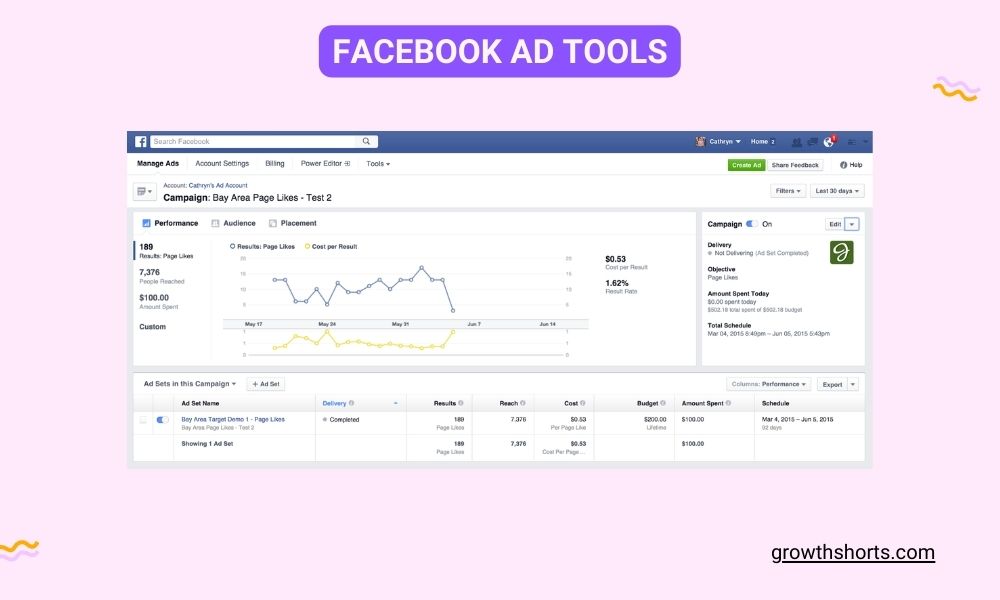 It's time to take your Facebook ad strategy to the next level.
The optimization of Facebook ads is a time-consuming, research-intensive process that frequently involves some trial-and-error. Let's close out with some tools that can help you get started.
You may look for active businesses in the Facebook Ad Library to see examples of their advertising and those of competing companies. What kind of creatives, for instance, are your rivals using? Which ad types? What about call-to-action phrases? The responses to these queries can help direct your own approach.
Twitter marketing tools
---
Twitter is one of the most important social media platforms, but it can be hard to keep track of everything you want to do with it.
Throughout the years, a lot of Twitter tools have come and gone. How then can you decide which software is worthwhile for spending your time and money on? These roundups will provide you with a wealth of dependable and effective Twitter marketing tools, ensuring that every element of your campaign is effective.
Want to stop spending money on Twitter tools that you use for a week? Even if the utility is free, bad software is a waste of time and money. We've put together a list of 10 excellent solutions for managing Twitter Chats, automating procedures, and more.
RiteTag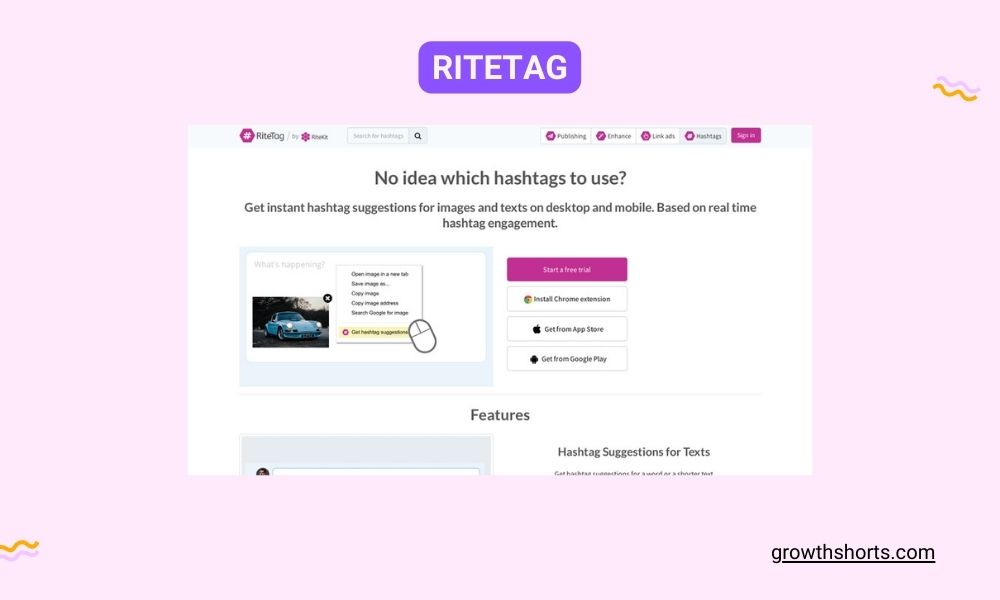 The RiteTag Chrome extension is a must-have for any hashtag lover. It's part of the RiteKit family, so you know it's good.
RiteTag is for you if you're unsure of which Twitter hashtags are suitable for your most recent Tweet. It provides recommendations for the most interesting hashtags depending on either a photo or text you use through integrations with native Twitter and management apps. If you were about to Tweet an article on SEO, for instance, you would begin typing "SEO" and the relevant, most interesting hashtags would emerge.
The capability of RiteTag to display which hashtag is now trending and its statistics is another helpful function. Although it is similar to Twitter's own trending features, it includes additional details like the exposure and unique Tweet counts for each hour.
SocialRank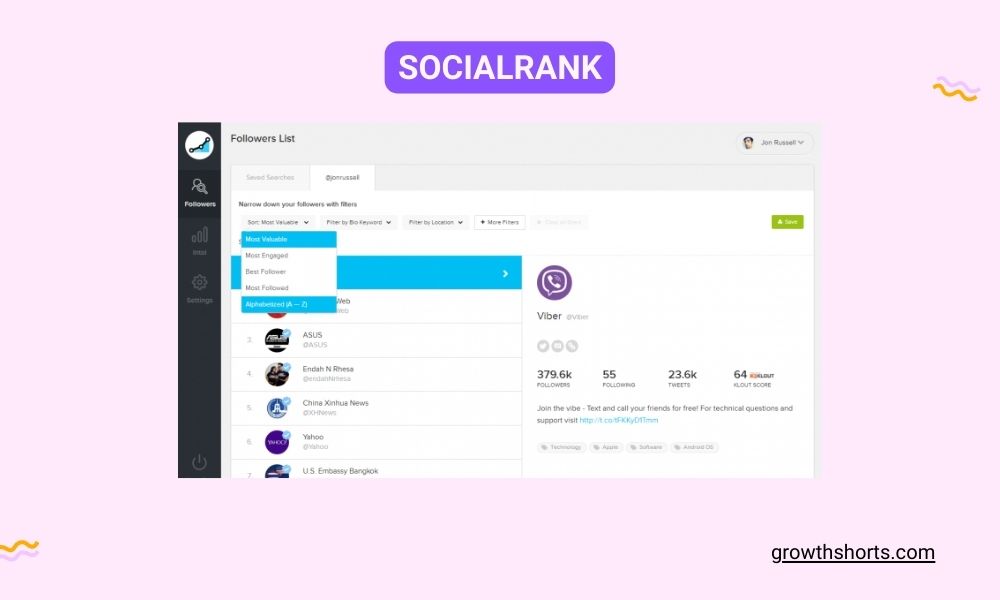 SocialRank is a marketing tool that uses social media to help you pinpoint your audience, and then place them into various segmented groups.
SocialRank closely examines your account's readership and their behavior when you have a connected Twitter account. Your audience can be sorted using filters like Most Valuable or Most Engaged. There are still more choices, such as limiting them by location or bio keywords. Then, these search results can be exported to a Twitter List or saved. Using the segmentation tool, you may categorize your audience into useful advertising audiences and gain a detailed understanding of them.
SocialRank also offers market research tools that allow you to analyze the social media landscape for any given topic or industry area of interest in order to better understand what people are talking about on Twitter right now so you can join in on relevant conversations or find new ways to engage with potential customers in real time before they even think about purchasing anything from anywhere else online!
Trendsmap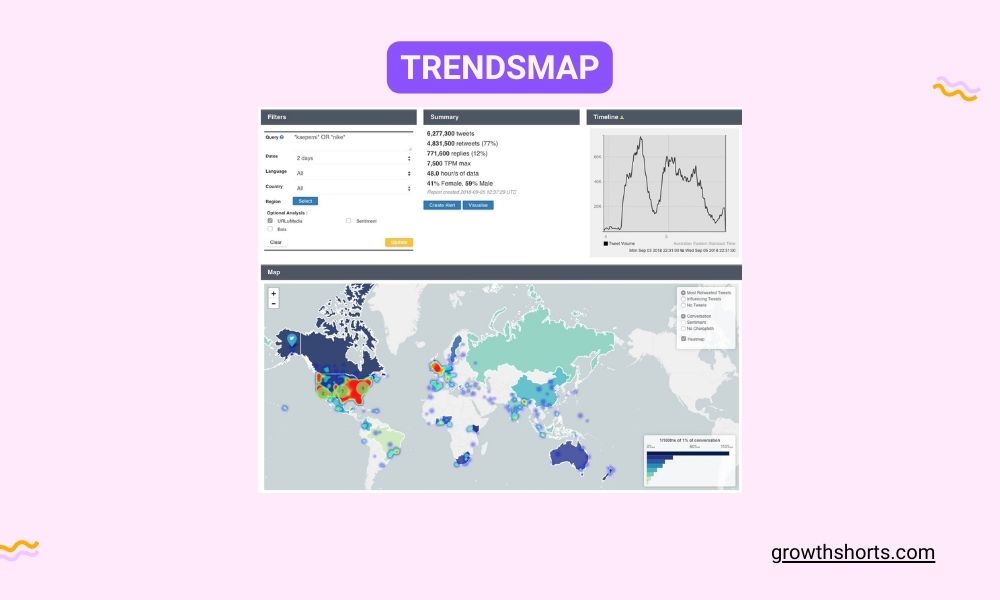 Trendsmap is a great tool for any Twitter user. It is basic, cost-free, and straightforward to use. Using the basic, free feature of Trendsmap gives you what's trending around the world and a 7-day history of Twitter trends. These include topics, hashtags and users.
The trends on the interactive map are adjusted as you navigate from one country to another or enlarge a particular city. When you click on a trending subject, a line graph showing the topic's performance over the previous week appears along with the most popular Tweets.
Account-level analysis for the top 1000 Twitter users is another free feature. Right now, Katy Perry is in charge. When she tweets most frequently, the type of information she likes, and even her preferred emojis are all revealed by doing further research.
You can create an alert for your topics, search further back in Twitter history, and visualize any topic as part of a subscription service.
Tweriod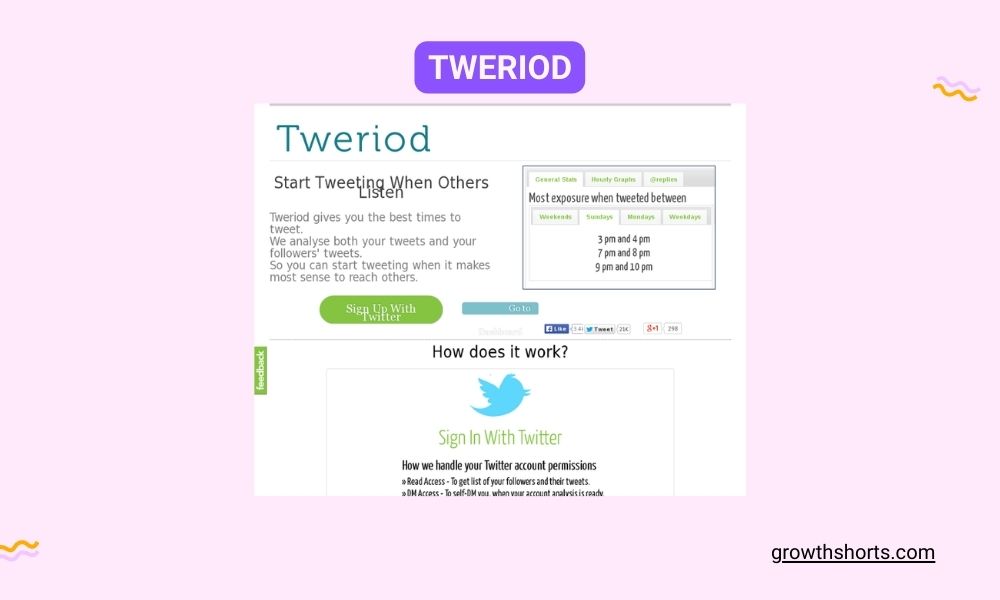 If you're looking for a tool that will help you determine when to tweet, Tweriod is a great choice.
Tweriod analyzes your followers' tweets, as well as your own tweets, and gives you a report on the best times to tweet.
This tool is great because it looks at the data of 1,000 users instead of just one or two—which means that it's more accurate than other tools. It also makes recommendations based on an average across industries, so it's likely that your audience will be more engaged during certain times of day.
ClickToTweet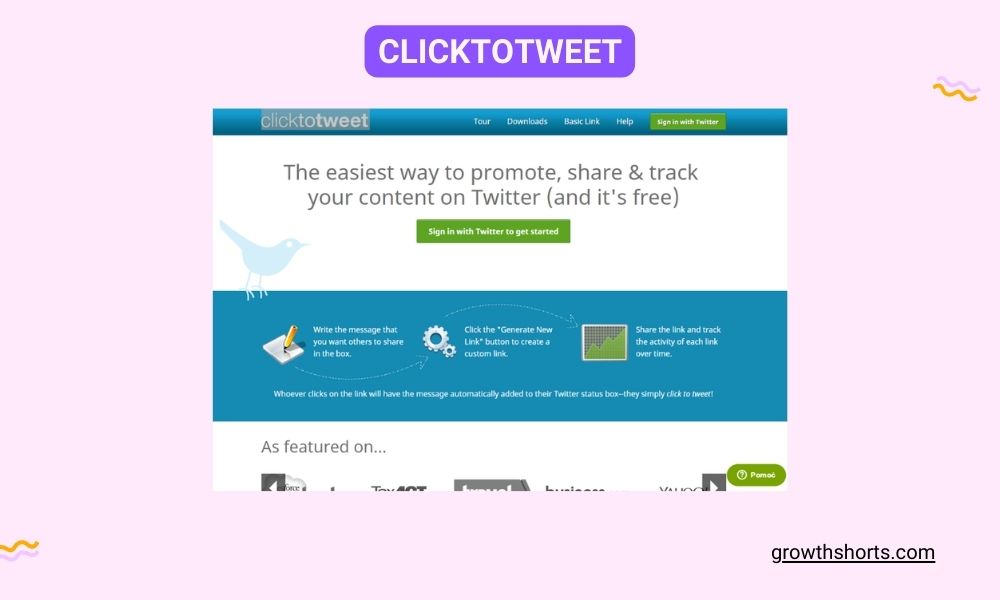 It's been a while since we've talked about ClickToTweet, but it's one of our favorite features.
With ClickToTweet, you can create clickable links to embed within your blog posts. Grab the greatest, tweetable phrases from your blog entries and insert them in between paragraphs. If you've read enough blog posts over the past few years, you've probably seen the embedded photos. The next step for a reader is to simply click to Tweet the quote.
Within your dashboard, you'll find the click activity for each of the Tweets that you've generated codes for. There is also a filter for date ranges.
For content marketers, this feature ensures that your readers can tweet easily and with the most quotable parts of the story that you control. It's a win-win for everyone!
Daily 140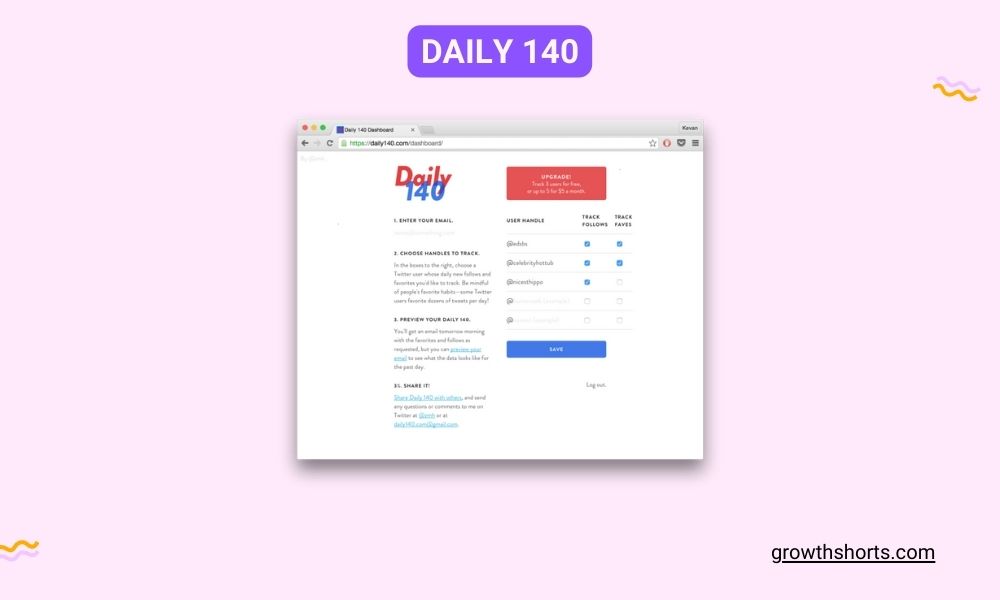 We're thrilled to introduce Daily 140, an email that's sent about the activity of accounts you track. You will receive an email that is automatically created with events like who they follow and what they favorite.
With Daily 140, you can watch what influencers are paying attention to, see who celebrities are following and track what your competitors are doing.
The automation is easy to understand and the emails are delivered in text format. You are free to switch the accounts you follow as often as you like.
Instagram marketing tools
---
How can you tell whether your Instagram marketing strategy is effective?
You could look at engagement numbers, but they don't tell the whole story. You could also use a third-party analytics tool, but those often aren't built for Instagram. So what's a savvy marketer to do?
The answer is simple: Use the right Instagram tools.
You'll want to start by looking for apps that can make editing photos easier and more efficient. There are plenty of options out there, so take a look at what each one has to offer and see which one will fit your needs best.
Iconosquare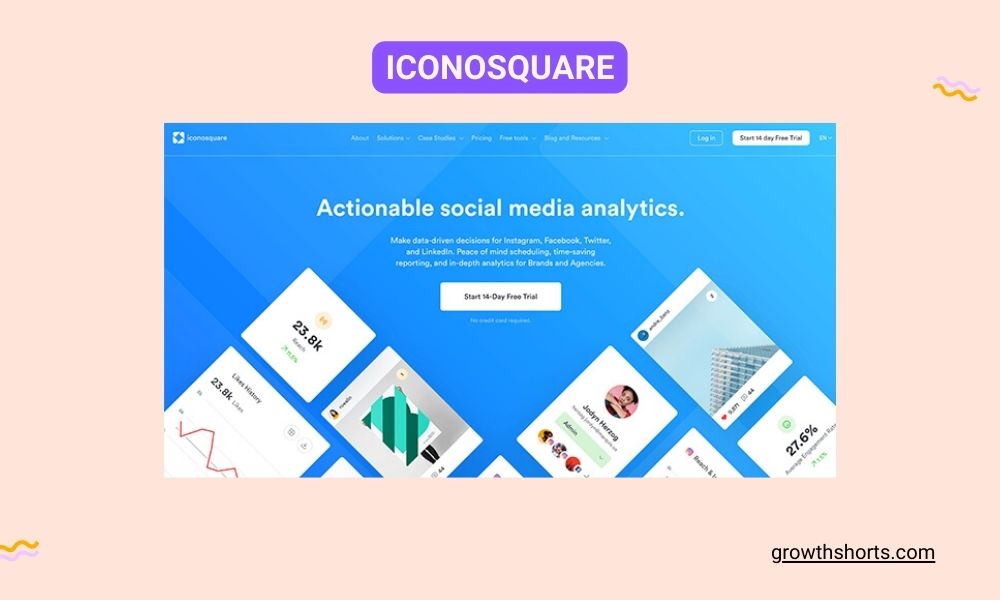 Iconosquare is a social media analytics tool that helps you track your brand's performance on Instagram. It's one of the top tools for Instagram marketing and is a great tool for measuring real-time engagement and brand mentions.
Iconosquare offers two free tools that you can use for Instagram marketing: Twinsta and Instant Instagram Audit.
With Twinsta, you can take clear screenshots of your tweets to post on Instagram and other social media platforms, and the auditing tool will inform you of how well-optimized your company account is. It's important to note that Iconosqaure truly made an effort to make sure that your data is presented in an understandable manner. Sadly, with these kinds of instruments, it isn't always the case. It stands out due to its clarity and minimalistic style.
Additionally, it provides Twinsta and Instant Instagram Audit, two free tools you may utilize for Instagram marketing. You may publish tidy screenshots of your tweets that you take with Twinsta on Instagram and other social media platforms
Key features:
Keyhole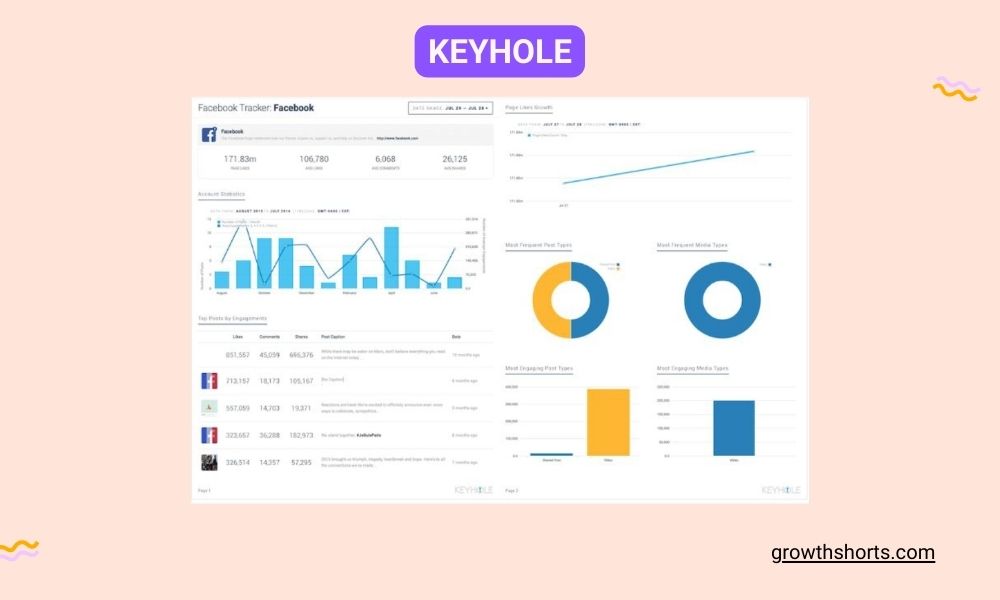 Keyhole is a social media analytics tool that tracks your brand mentions, hashtags, and other things. It's trusted by names like Mashable and Reuters to help them track their brand mentions and hashtags among other things. You may evaluate the effectiveness of your ads and the influence of influencers using its Instagram analytics tool.
It will track every Instagram metric required to demonstrate the effectiveness and ROI of your Instagram advertising. Given the significance of hashtags on Instagram, its sophisticated Instagram analytics tool will be extremely helpful.
Key features:
Instagram Influencer Sponsored Post Money Calculator
 Instagram Influencer Sponsored Post Money Calculator
The Instagram Money Calculator, brought to you by yours truly, allows you to calculate the expected revenues from your Instagram account. In a nutshell, it's an unauthorized Instagram tool made to provide influencers advice on how to maximize their financial potential. Entering your Instagram account is all that is necessary; the rest will be handled by our program.
Why use our tool? Well we all know that there are a lot of people on Instagram that earn a lot of money from sponsored posts. But how much exactly? And what does it take for an influencer to get paid? Well we decided to find out for ourselves!
Our tool is designed for anyone who wants to know how much their sponsored post is worth based on their follower count and engagement levels. It's free and easy-to-use so get ready for some serious social media bragging rights!
Phlanx
If you're looking for the best Instagram calculators, look no further. Phlanx has got you covered.
If you need to do Instagram audits, its Influencer Auditor is one of the best tools available.
Additionally, it provides two calculators: the Instagram Post Likes Calculator and the Instagram Engagement Calculator. If you need to know the post interactions for a certain post, utilize the latter.
Additionally, it provides a tool for tracking competitors. You may contrast the engagement rates of several Instagram accounts with its Instagram Competitor Tracker calculator. If you want to see how you compare, this is helpful!
VSCO
When you're trying to grow your audience, you need to give them high-quality visuals. If you don't have the skills to take great photos, then you'll want to use a photo editing app.
One of the top photo editing programs to download is VSCO, which was made by creators for artists. Its enormous versatility allows you to adjust things like contrast, sharpness, color balance, and brightness. This is what makes it so excellent. It provides a remarkable array of editing tools, presets, and numerous free filters.
You can also gain access to hints, cheats, and inventive tutorials if you join (or subscribe to its plan). You can take part in the weekly picture challenges as well.
Additionally, it provides a tool for tracking competitors. You may contrast the engagement rates of several Instagram accounts with its Instagram Competitor Tracker calculator.
Boomerang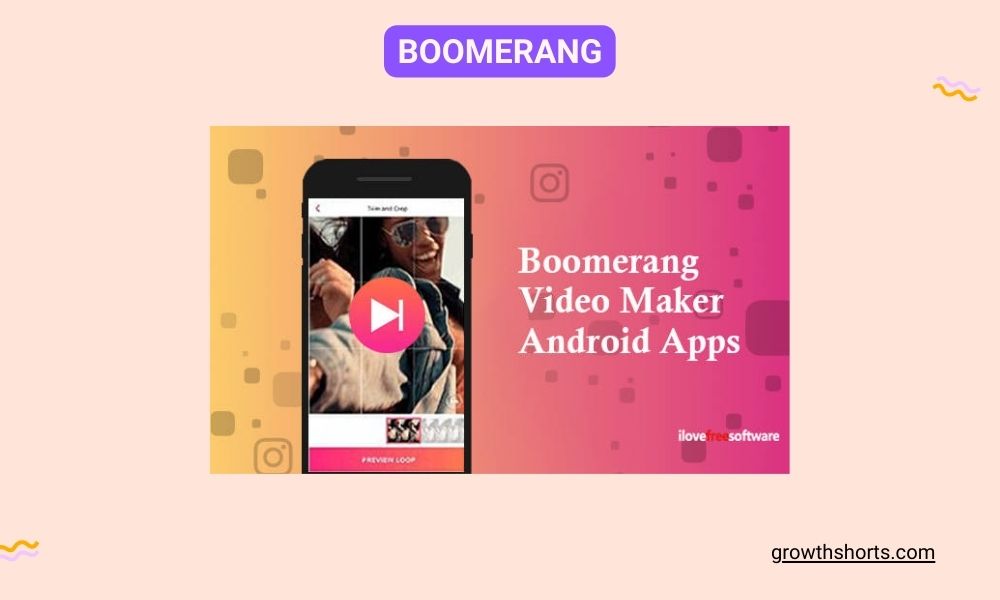 Boomerang is a video-making app that can be downloaded as a separate free app. It quickly captures bursts of 10 photos, mixes them, and then outputs looping films. This is an excellent tool to use if you want to do something interesting because it won't backfire. It might be easy to use, but that's exactly where its charm resides.
Later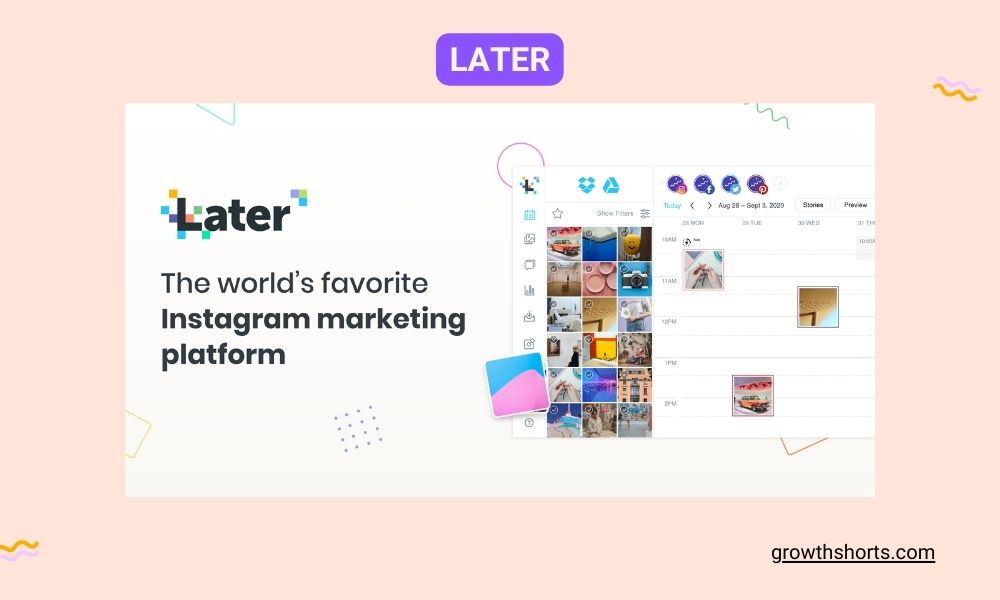 Later is an Instagram marketing tool that's popular among users of the platform. It provides a wide range of Instagram-specific features such as analytics, hashtags, photo resizing, scheduling, and much more.
Overall, it is one of the best Instagram scheduling tools. While you can use Later to post on other social media platforms such as Twitter, Pinterest, and Facebook, Instagram is its primary focus. It understands that Instagram is all about visuals and has built their software accordingly.
Leetags
Leetags is a hashtag generator optimized for Instagram captions. One feature that distinguishes it from other similar hashtag generator tools is that it includes the number of posts in which a specific hashtag was used. 
This means that you'll get an accurate idea of how popular a hashtag is before using it in your caption, which will help you avoid using a hashtag that's too popular and getting lost in the crowd or using one that isn't as popular and not getting enough engagement.
In addition, Leetags allows you to search by location, so if you're looking for local hashtags, this tool can help out there as well!
LinkedIn Marketing tools
---
LinkedIn automation tools are software programs that are designed to mimic human behavior while performing tasks for you on LinkedIn. LinkedIn automation tools, in addition to saving you time, provide the following advantages:
Helping you run personalized campaigns by using artificial intelligence to learn from your previous campaign performance and apply that knowledge to future campaigns.
Data collection to aid in the creation of better campaign iterations.
Integrating with other marketing tools to aid in the development of effective omni channel campaigns.
In short, LinkedIn automation tools make it easier to achieve your professional and business objectives on the platform.
LinkedIn Sales Navigator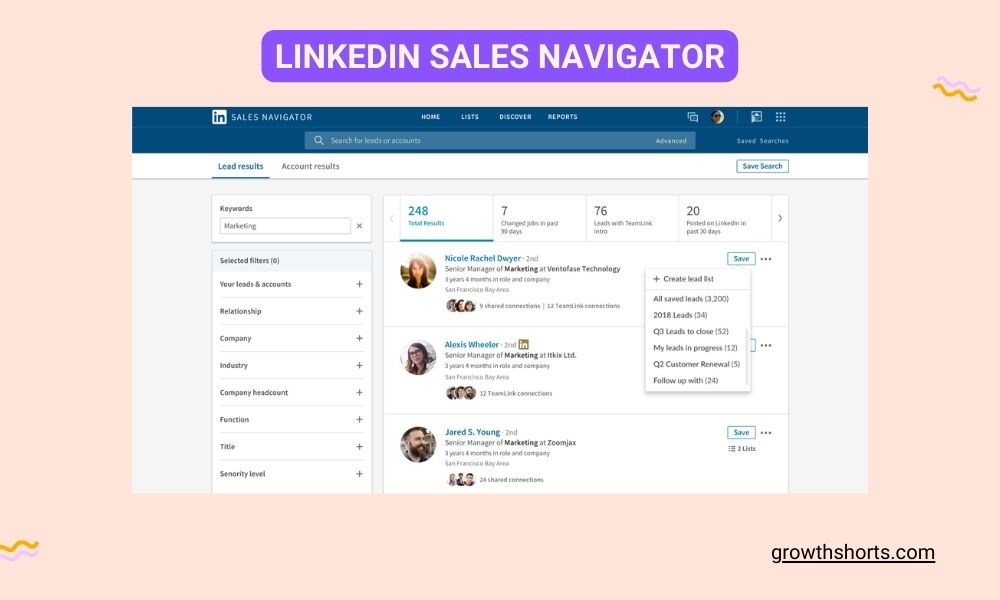 LinkedIn Sales Navigator is designed for people who are already active on LinkedIn and want to access advanced features.
If you're already using LinkedIn and know your way around the site, this tool can help you achieve some serious results.
Sales Navigator may be worthwhile for people who want to tap into LinkedIn's network, increase their pipeline of relevant leads, and close more deals.
We recommend purchasing the tool ONLY if you are already familiar with LinkedIn and want to take it to the next level.
Key features:
Phantombuster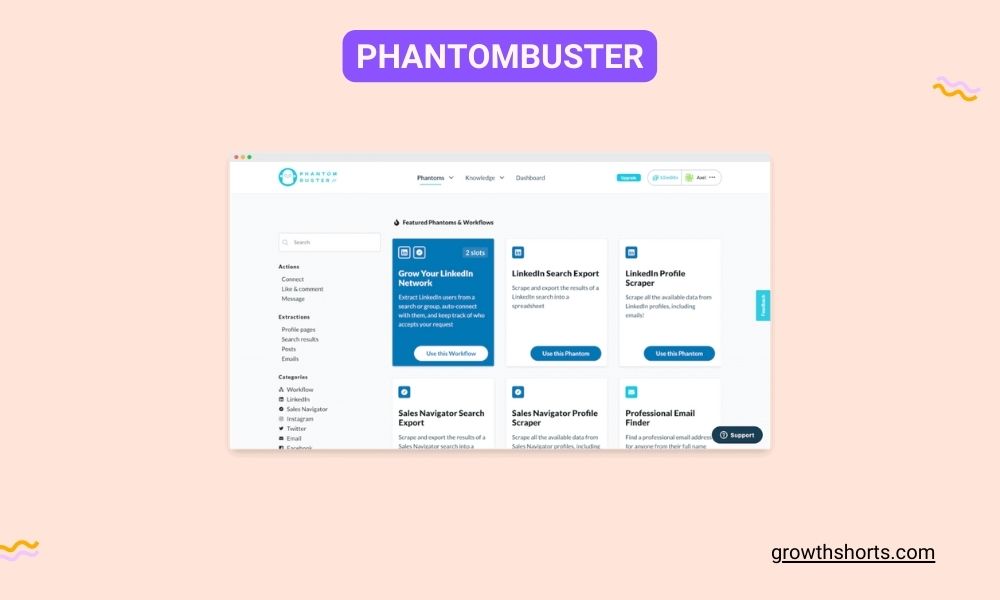 Phantombuster is a code-free automation and data extraction tool that assists businesses in lead generation, audience scraping, and growth automation. The extension can automate most web actions, schedule tasks, chain automations, and more.
And, for the time being, it is only compatible with the following channels: LinkedIn, Sales Navigator, Instagram, Google, and Twitter. But we're focusing on LinkedIn here.
LinkedIn is a social media platform for professionals to connect with one another and share information about their work experiences. It's also a great place to network—but if you're not using it correctly, then you're missing out on opportunities for growth!
Here are two ways you can use Phantombuster to grow your business:
Send personalized messages
Send automated messages
So, let's take a look at what the tool has to offer for the platform.
Key features:
TexAu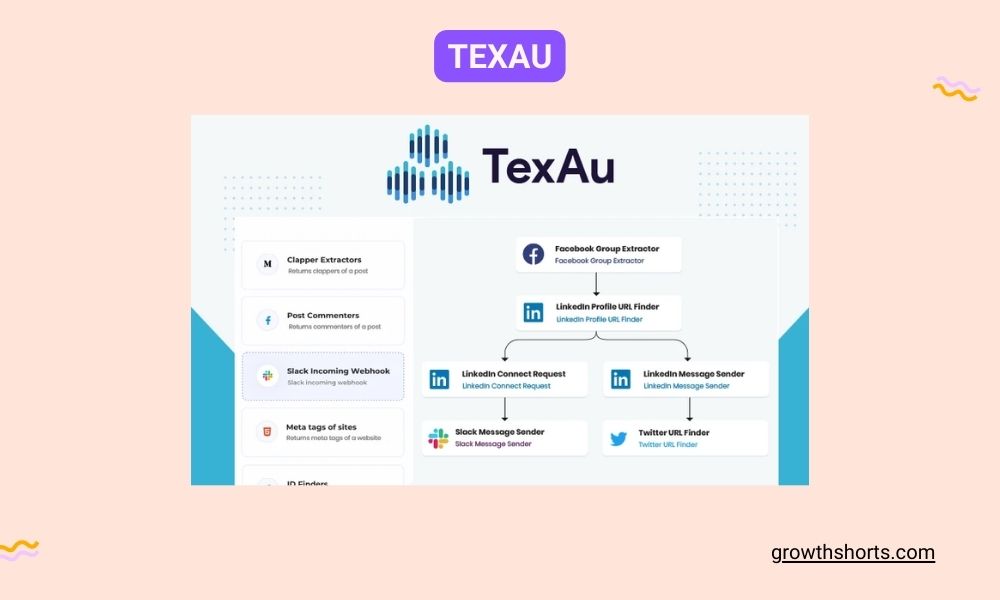 TexAu is an abbreviation for text and automation.
TexAu, like Phantombuster, is a growth automation platform that helps you scale your business faster by extracting all of the necessary data and automating certain tasks to save time.
Similarly, the platform also offers automation for several different websites (including Facebook, Twitter, Instagram, Quora, and 6+ others).
But since we're focusing on LinkedIn, let's start there.
The platform allows users to automate their marketing campaigns across multiple platforms including LinkedIn using customizable templates that can be adjusted according to your needs.
Key features:
Zopto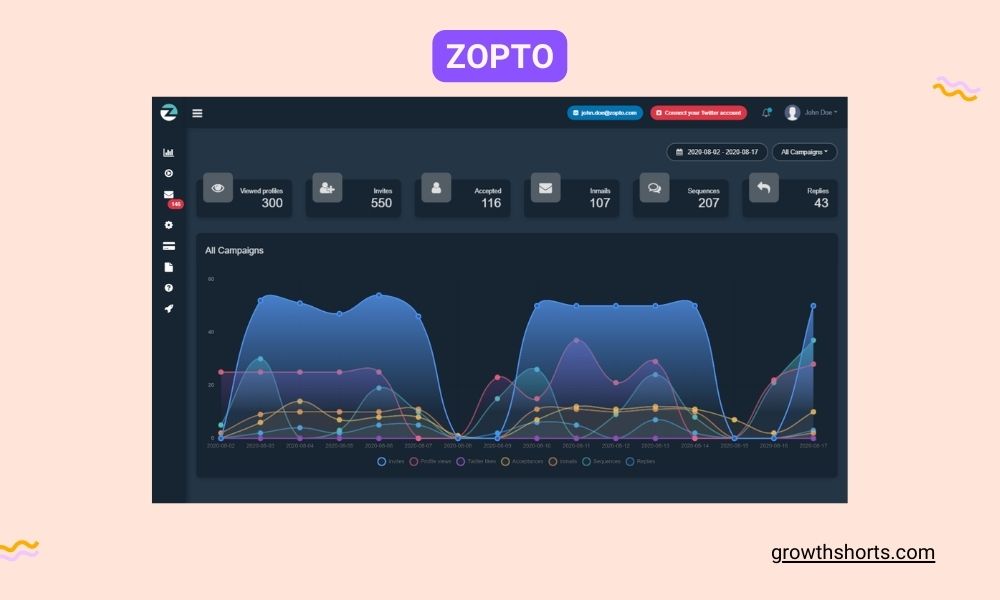 Zopto is a LinkedIn outreach automation tool that primarily assists sales teams with lead generation. You can use LinkedIn Premium or Sales Navigator to filter your ideal customers and begin searching.
Zopto will automatically search for your prospects, save them to a list and add them to your CRM. You can also use Zopto's API to integrate with other tools like Hubspot, Marketo and Google Analytics.
Zopto integrates with most major CRMs, including Salesforce, Hubspot and Pipedrive.
Key features:
Youtube Marketing tools
---
The online video-sharing platform, YouTube, has attracted a lot of attention in recent years. That's because it is one of the most popular social media platforms in the world. With 2 billion active users, it has more than Facebook.
This popularity has also made it a hot spot for marketers who want to promote their products and services online. In fact, many businesses have already realized that YouTube marketing can be their secret weapon—especially when it comes to boosting sales and increasing brand awareness.
However, creating and promoting videos isn't as easy as creating textual content. It takes more time and effort but it can be worth it if done right! Here are some useful YouTube marketing tools that will help you create better videos:
VidIQ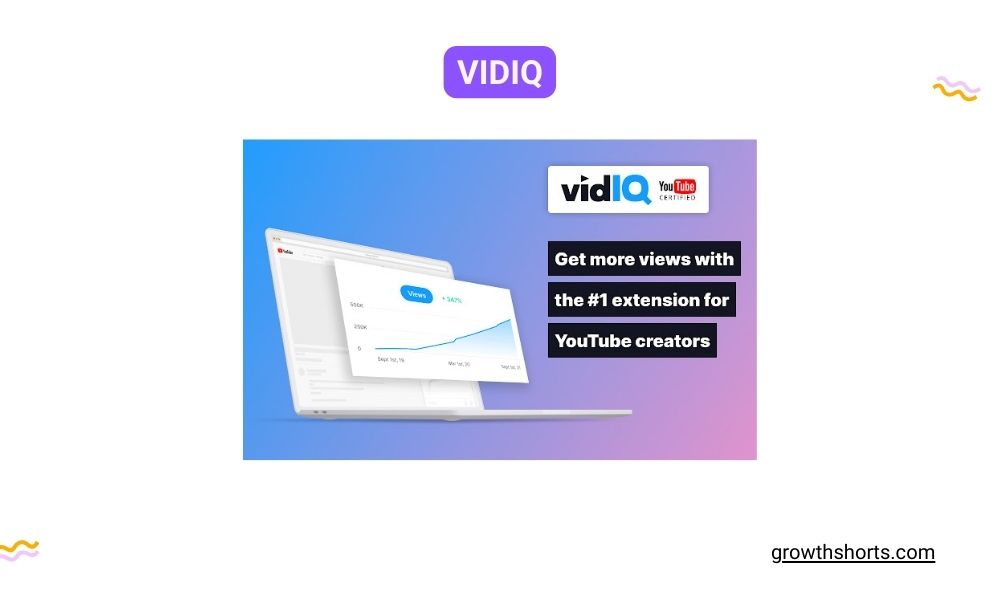 VidIQ is a YouTube marketing tool that helps brands maximize their video marketing strategy's potential. Instead of the number of subscribers, this YouTube marketing tool prioritizes metrics such as tags, watch time, and social media shares.
VidIQ allows you to analyze your videos' performance in real time so you can make sure they're reaching their full potential. It also allows you to make adjustments to the content or format of your videos that may improve performance.
VidIQ has been certified by YouTube as a partner to help its users gain more subscribers and views on their videos. The service also provides analytics reports that measure how well your videos are performing across platforms like Facebook, Twitter, Instagram and Snapchat.
Key features:
TubeBuddy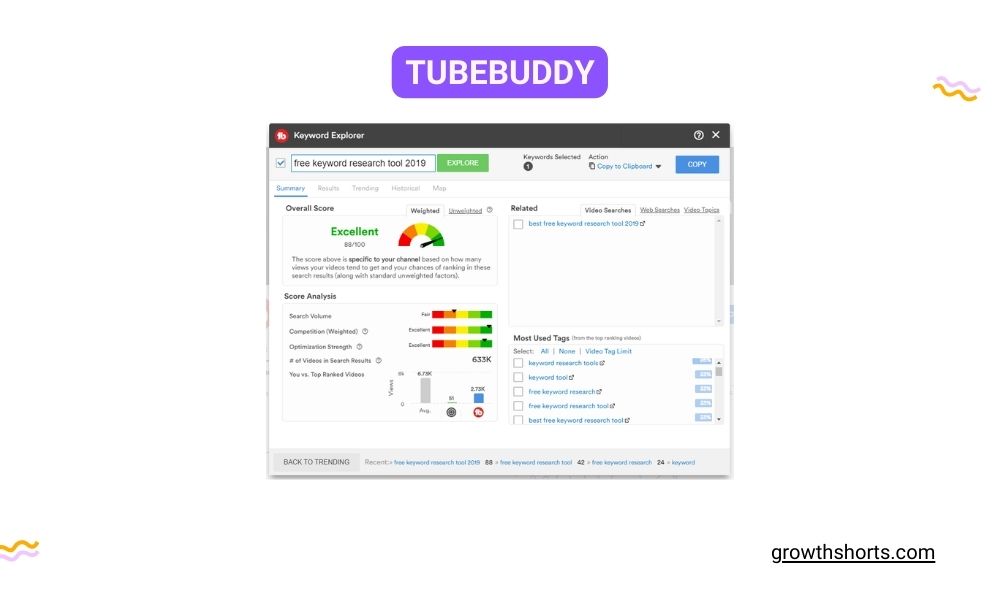 TubeBuddy is a tool that allows you to easily manage your YouTube channel. This free browser extension and mobile app can be directly integrated into your YouTube channel. You'll be able to see what's happening in real time, including who has watched or subscribed to your videos and which videos are getting the most views.
You can also use TubeBuddy to schedule your videos and track their progress in real time, so you know exactly when they go live, how many views they get, and what kind of engagement they receive.
Key features:
Biteable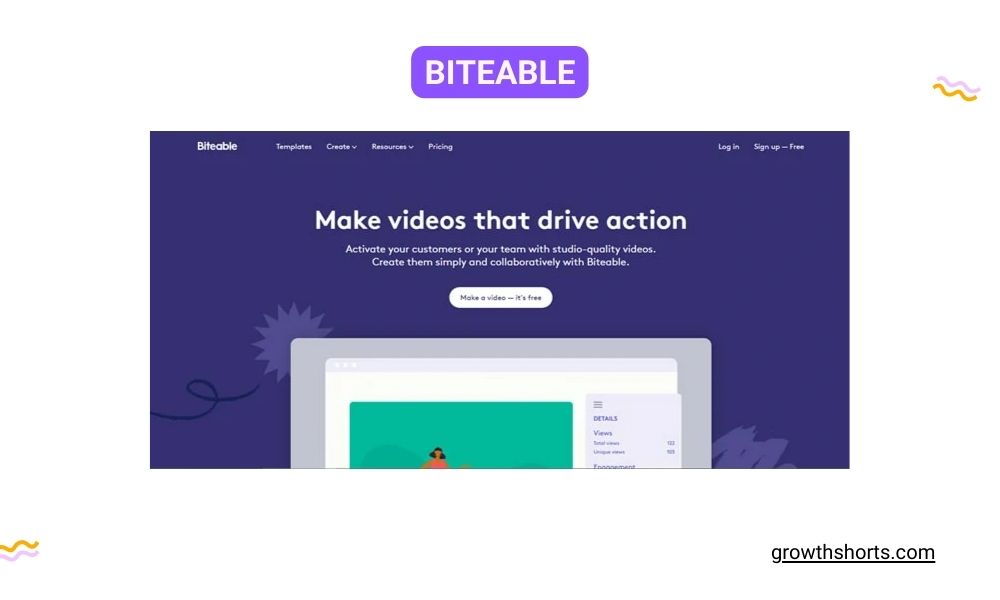 Biteable is a video-creation tool that makes it easy to create animations and professional-looking videos easily.
You can make any type of video using Biteable, including explainer videos, animation films, and onboarding videos. You may improve the quality of your YouTube clip with the aid of this video editing program. With this application, it's simple to produce animations and videos with a polished appearance.
Whether you're looking for an easy way to make an explainer video or need a new way to tell your story, Biteable will help you get there quickly and easily!
Key features:
Social Blade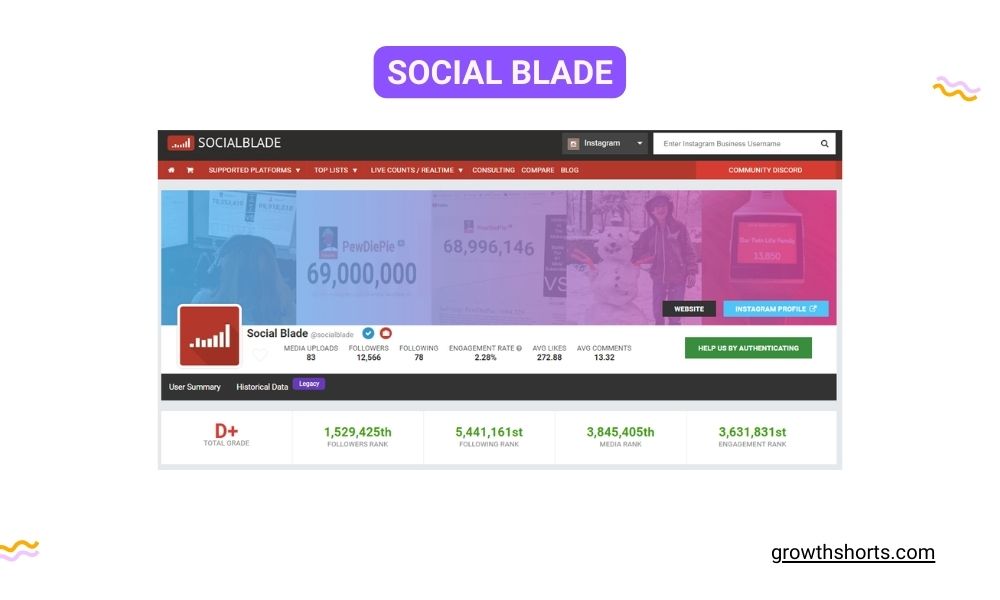 Social Blade is a YouTube-certified tool that allows you to track statistics for your social media channels, including Twitter, YouTube, Instagram, and Twitch. The site provides free social media analytics for any brand or content creator.
Using Social Blade's analytics dashboard, you can see how many people have watched your videos and how many subscribers you have on each platform. You can also see what percentage of your viewers are active on each platform.
Social Blade also allows you to track other data points such as video views per day/week/month, average view duration (i.e., how long viewers watch your videos), subscriber count growth rate over time, and more.
Key features: