If you're looking to get started with SaaS marketing, we've got some ideas for strategies that are quick to implement, require little upfront investment, and can be scaled up rapidly as your business grows.
Software as a service (SaaS) is a business model that's been around for almost two decades now. It's one of the most popular models in modern business, and it shows no signs of slowing down. In fact, it's predicted to continue growing for years to come.
If you're in the SaaS industry, then you're definitely in an exciting place right now. You have plenty of opportunities ahead of you—and plenty of competition. That means it's time to think about how you're going to stand out from the crowd.
The median cost to acquire a new customer is $1.32, but that cost can go down to $0.71 if you upsell to your existing customers.
The typical SaaS business invests between 15% and 25% of its sales in marketing.
SaaS Marketing Defined
SaaS marketing is a type of software marketing that focuses on the needs, wants and desires of the customer. While traditional software marketing focuses on the product itself, SaaS marketing focuses on how customers will use the product to solve their problems or meet their goals.
It's important to note that while SaaS marketing differs from other types of software marketing in some key ways, it shares many similarities with other forms of tech advertising such as Search Engine Optimization (SEO) and pay-per-click ads (PPC). This means that if you're new to any kind of online advertising, then learning about this type of strategy can help provide you with some great insights into how they work together!
Recommended read
Best SaaS Marketing Campaigns
1. Salesforce
Have you ever wondered how Salesforce.com went from nothing to a $13 billion enterprise? It's actually pretty simple: identify your target market, leverage social media and make customer experience exceptional.
In 2001, when Marc Benioff was trying to sell his CRM software to enterprises, he realized that most companies were already using some form of CRM system. So he decided to focus on companies that didn't have one yet. He also identified his target market as small businesses with fewer than 100 employees.
Benioff leveraged social media by inviting key influencers and tech journalists to spend a day using the product at his home office in San Francisco. As a result of these efforts, he was able to generate buzz about the product before it was even released publicly. The company also focused on making sure they had an excellent customer service team so that customers would be happy with their experience using Salesforce's software.
2. MailChimp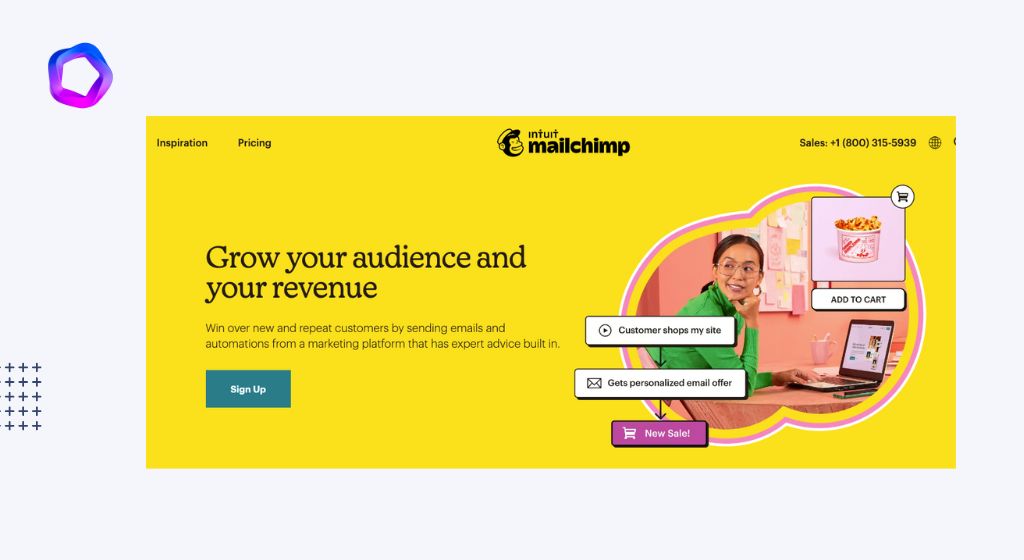 You probably know MailChimp as an email marketing company.
That's a good thing because their marketing campaigns are creative and innovative, fun and engaging, relatable and familiar, smart and well researched. In other words, they solve common problems by doing all the things that SaaS marketers need to do including solving specific problems with many different marketing channels!
One of their best recent campaigns is also one of the most basic – using Kanban boards to explain why visual sales tracking is really important for any business.
The bottom line is that you should create great content to explain the features or benefits of your product in a very clear way. You should always have a great offer (such as a free trial) and make it easy for customers to understand how your product can help them solve their problems.
3. Dropbox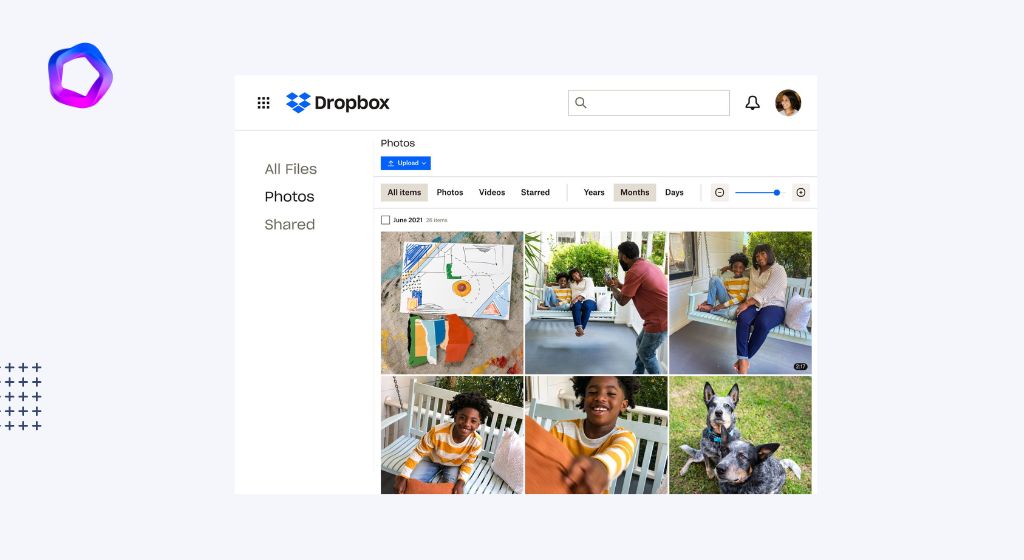 Dropbox is the granddaddy of referral marketing. The cloud storage service launched a referral program in 2009, rewarding new users with more storage space if they referred friends to the service. It quickly gained metrics you could only dream of: 1 million users within 10 months, 4 million users by June 2011, and more than 200 million total by November 2012.
It's clear that referral marketing is a powerful tool for SaaS companies to use. But what can you do to emulate Dropbox's success?
4. Slack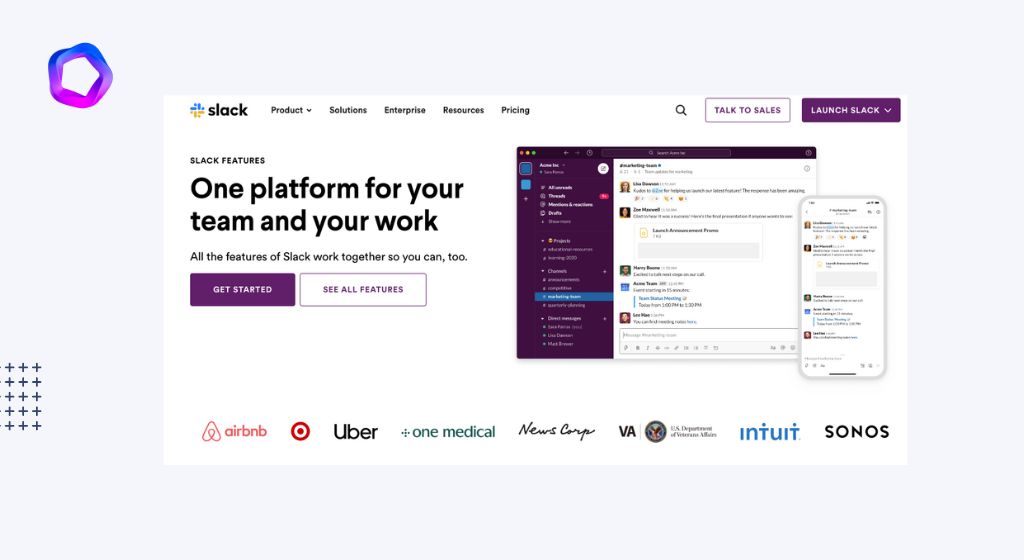 Slack is a cloud-based set of proprietary team collaboration tools and services, founded by Stewart Butterfield, Eric Costello, Cal Henderson, and Serguei Mourachov.
The Slack messaging app provides several IRC-style features, including threading and archiving, and is available on desktop and mobile platforms.
Slack is a great example of how you can use word-of-mouth marketing, integrate with other services and apps, and use freemium plans to grow your business.
Here's what they did:
Word-of-Mouth Marketing: Slack started by offering free trials to all users, and then encouraging them to share their experience with friends. This helped them grow quickly without spending money on advertising.
Accelerate Growth via Integrations: As the company grew, they made sure that they could easily integrate with other services and apps (like Dropbox) so that their customers would be able to use more than one tool in their workflow.
Opt for Freemium Plans and Quick Onboarding: When people are trying out new tools, it's important that they don't have to pay anything at all—that way they feel comfortable giving feedback on the product before deciding whether or not they want to continue using it.
5. Evernote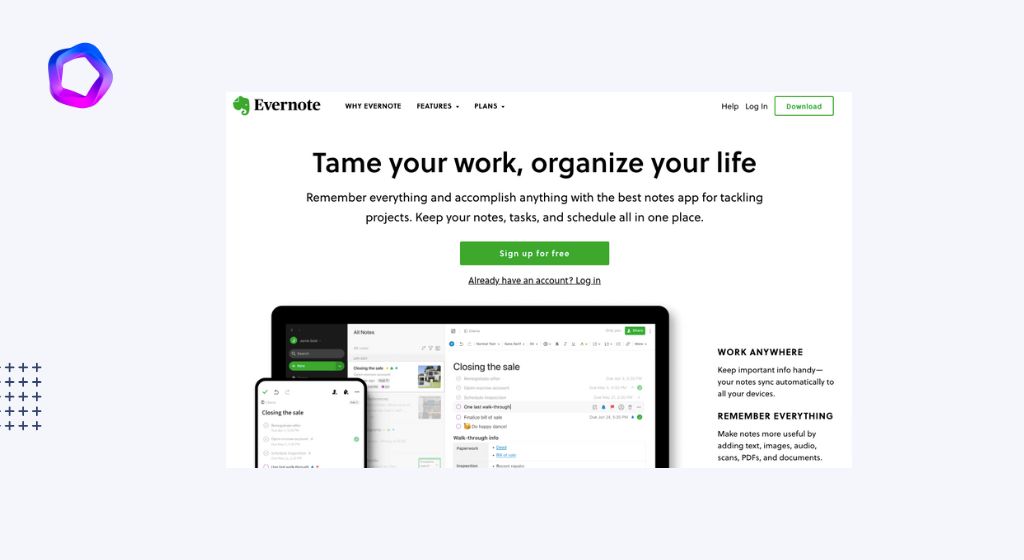 For many, Evernote is a master productivity app. Whether you're looking to organize your life, start a blog, or land a new job, Evernote can help you get there.
The company's marketing campaign reflects that desire for productivity by sharing stories about people who have used Evernote to make major life changes. The videos clearly focus on the end user and the results they were able to achieve after using Evernote. The themes of these stories include:
Diving into entrepreneurship
Finding long-term professional success
Starting a family (with one woman even naming her daughter "Evernote")
6. Trello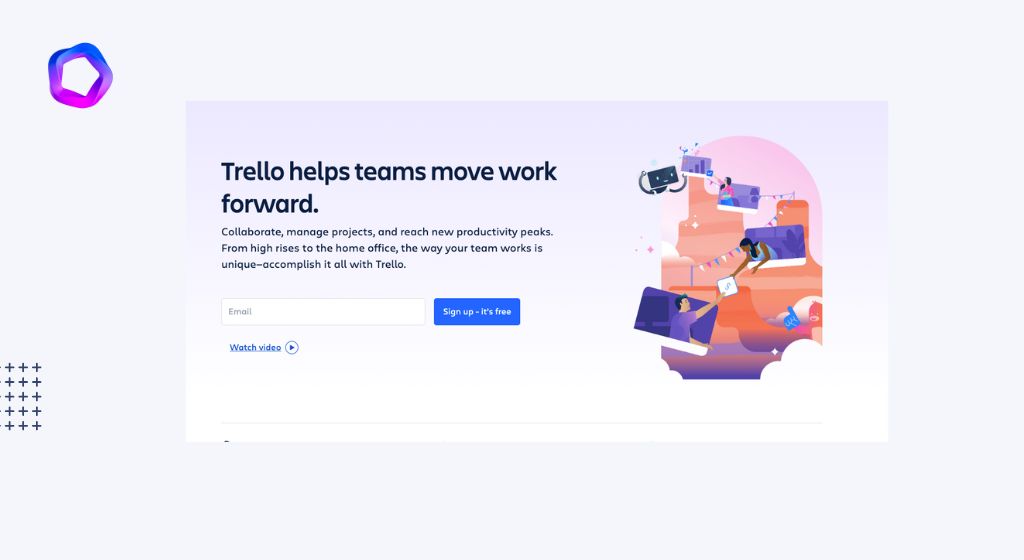 Trello's marketing strategy is to target the individual user who wants to get organized. Customers are able to register and start using it right away. They focus on the benefits of its simplicity and ease-of-use in their features, screenshots, blog posts, webinars, etc.
Trello's marketing message is that it is a simple and easy to use tool for organizing projects (think work or personal).
Trello is always looking for ways to improve the user experience by incorporating common requests from its users. They also continue to add additional functionality as new features are requested.
7. Buffer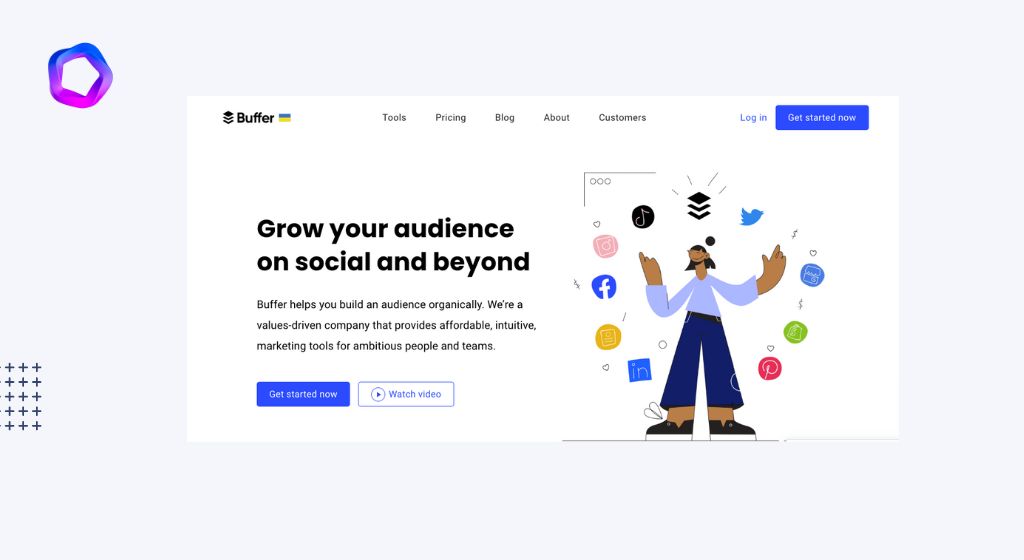 Buffer is a social media management tool that saves you time and helps you manage your accounts more effectively. They provide scheduling, engagement, analytics, and team collaboration tools to help businesses increase traffic and save countless hours on social media.
Buffer's marketing focuses on content. Rather than focus on creating a product they think might sell well or a product they want to build, Buffer prioritizes how their product will help users. To do this, they rely on creating content based around what their audiences are interested in learning about and using that to drive conversations with them.
8. Hopscotch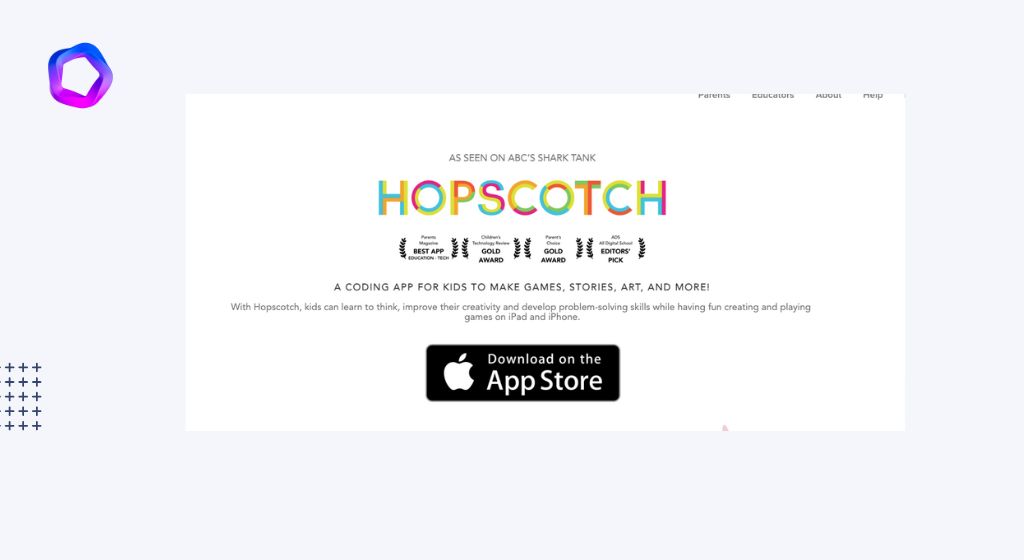 Hopscotch is a mobile app that teaches children how to code.
They are committed to creating a brand identity for themselves by being fun and engaging.
They include kids of all races and genders in their marketing campaigns.
9. CrazyEgg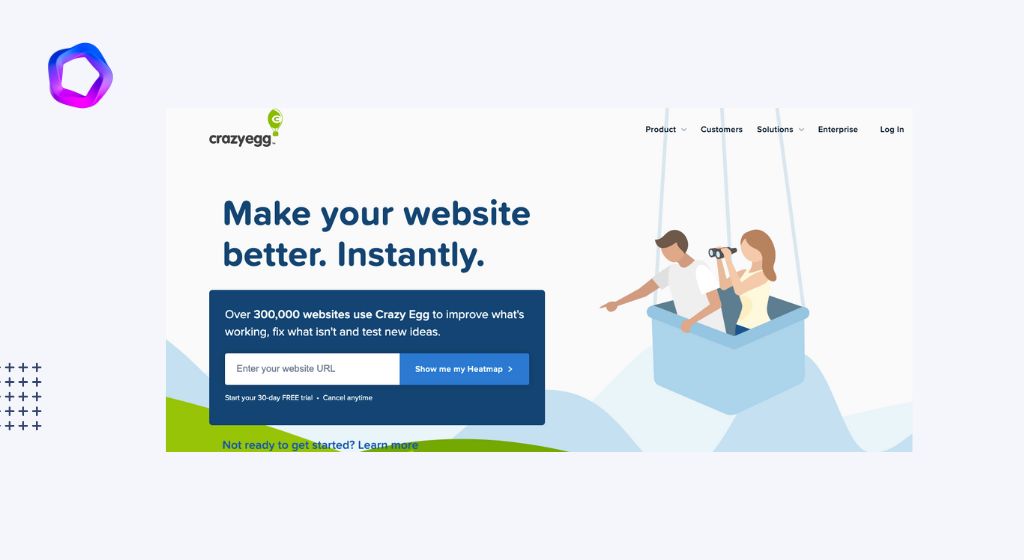 Here's how CrazyEgg grew 100,000 users with a $10,000 marketing budget:
Press: CrazyEgg received press coverage from Mashable, The Next Web, TechCrunch, and more.
Business partnerships: They partnered with design agencies such as Lunar Pages and SMX (SEO agency) to offer their product as a bonus for their clients' projects.
SEO: They wrote blog posts that ranked highly in Google search results and improved their site's overall SEO.
Speak at conferences: They spoke at industry conferences like Pubcon, Hostingcon, etc and met other entrepreneurs who could help them grow their business.
10. Ahrefs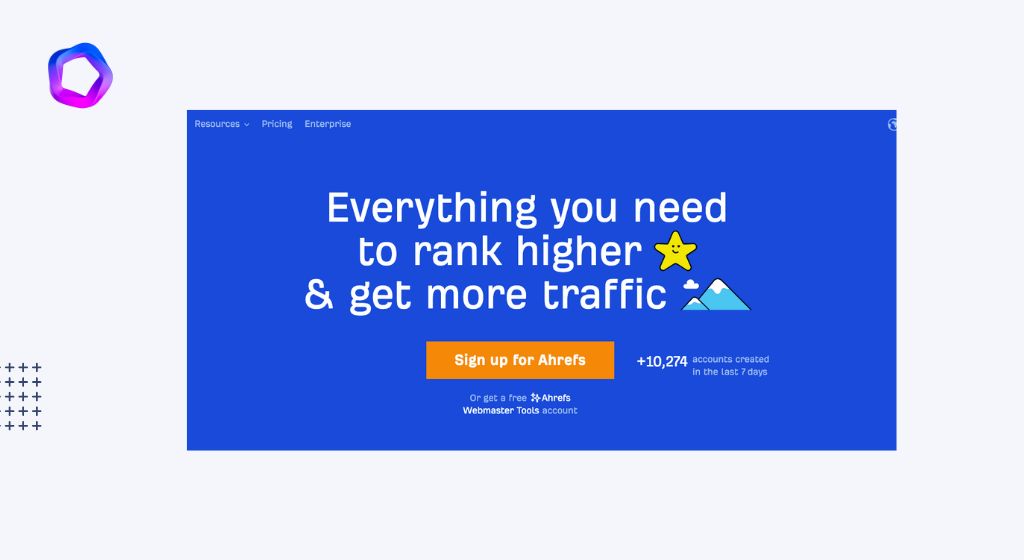 This is an interesting strategy, because Ahrefs themselves can already establish that they have an awesome marketing tool. So what are they doing? They're giving access to parts of the tool for free to generate leads, and then using content marketing to drive traffic to their website, as well as increase their SEO ranking.
They provide a free SEO tool, SEO-toolbar with which you can analyze your own website's performance and see how it compares to other sites — along with tips on how to improve it.
There's a backlink checker that allows you to view the backlinks of any URL (and from there figure out who's linking to your competitors).* Ahrefs' own blog contains dozens of great guides on things like local SEO, keyword research, link-building strategies, and more — all written by knowledgeable experts in the field and carefully optimized for search engine results pages (SERPs).
This illustrates a key point: If you've got something good going on, don't be afraid to share it with others! You might just get a lot more customers out of it in the long run.
SaaS marketing channels
SEO
Searches are the bread and butter of SEO, which stands for search engine optimization. Google dominates the search engine market, but doesn't discount other platforms like Bing or Yahoo!. SEO is a highly effective marketing channel because it puts you in front of new audiences when they're actively looking for products or services like yours. You don't have to pay to get organic traffic to your site through a search engine — as long as you follow best practices that help your website rank highly in search results (or at least not get penalized).
In 2017, Moz conducted research on B2B websites across six different industries and found that organic traffic was the number one driver for both visits and leads. This means that many users who find your site via an organic search will become customers!
Content marketing
Your content marketing strategy will help you build a strong brand, engage your customers, and improve leads, traffic, and sales.
Credibility: Creating credible content that positions you as an industry expert helps to establish trust with your audience. Content marketing can also be used to educate people about your products or services.
Lead generation: Content marketing is an effective way to generate leads through search engine optimization (SEO), email campaigns, and social media sharing.
Generate traffic: You want people to find your website so that they can learn more about your products or services. If a person finds value in the content you create, they are more likely to share it on their own website or social media pages—which will increase incoming web traffic and overall site visits.
Brand awareness: Creating interesting content will help readers remember who you are—thus increasing brand awareness over time. Effective ways of generating interest in your brand include using storytelling elements like quotes from customers or employees; being transparent about business practices and goals; sharing behind-the-scenes looks at the company; or hosting special events for charity foundations (such as volunteering with Habitat for Humanity).
Social media
Depending on your audience, social media can be an important part of your marketing strategy. Platforms such as Facebook, Twitter, LinkedIn and Instagram give you the chance to connect directly with your customers and build brand recognition. Social media is a great tool for sharing not just promotional content, but also customer service information and other useful resources.
Paid advertising
Paid advertising is arguably the most cost-effective way to get new users to your SaaS product. These include familiar platforms like AdWords, Facebook ads, LinkedIn ads, Twitter ads, and Instagram ads—all of which have different formats and targeting capabilities. They also include less common ad networks like Outbrain, Taboola, and Quora Ads.
There are several different types of social media ad formats that you can use to promote your product:
Static image or video with a headline and copy (Facebook)
"Promoted" posts in front of more people than just your followers (Twitter)
Paid search results on Google
Email marketing
Email marketing is a great way to market your SaaS, no matter what stage of the customer journey you're in.
If you're just starting out, with all of those "cold" leads who don't know anything about your brand or product, it's an efficient and inexpensive method for promoting yourself.
It's also a great way to create and nurture relationships with existing customers: as they get to know and trust you, they'll be more likely to try out new features that you offer.
And if they abandon their accounts after a trial run? It won't necessarily cost you much to re-engage them, especially if there's new inventory available (think: something like Dropbox offering extra space at a discount).
I wish this process were easier. "But wait," I hear someone saying…
Public Relations
Public relations—PR—is the practice of getting your company mentioned in the press.
If you're a SaaS (software as a service) company, PR can be an important part of how you market your business. As you might imagine, getting press can lead to increased awareness and brand recognition for your business. That's why so many big companies have entire teams dedicated to their public relations efforts.
But PR isn't just reserved for big companies; with a little bit of planning and hard work, even small businesses can get some good coverage. However, this requires careful strategies and planning in order to ensure that you don't waste resources on tactics that won't actually help you grow your business.
So here are some tips for thinking about PR as it relates to a SaaS company's marketing:
Have a story worth sharing first of all–Why would someone write about your company? What makes it unique? Is there something new or innovative about what you're doing? If not, could there be?
Referrals
The more you know about your best customers, the better. If you already have a large customer base, use your data to identify the common traits of these customers. This can be anything from industry to company size to location to the job title or even specific products or services they buy from you. Then create an ideal customer profile that includes all of these characteristics and use this information when targeting new prospects.
Once you've identified who your ideal customers are, find ways to reach them on their turf—wherever they may be online. Some SaaS marketers might gravitate toward Facebook or LinkedIn because it feels familiar, but if your target audience isn't there (or doesn't spend as much time there), it won't be very effective at helping you build a targeted database of leads and opportunities. If you do choose social media as one of your channels, make sure each post is shareable and relevant so that people will want to share it with their networks too!
Events and conferences
Events and conferences can be a great way to get in front of potential customers. When you exhibit at an event, you have a captive audience of your target market all around you.
You should also consider sponsoring an event to expand your reach. Sponsorships are typically more expensive than exhibiting but come with built-in credibility and allow you to network with other SaaS companies that are both partners and competitors.
Additionally, events are a great way for attendees to learn about your product or service. You can use the opportunity to generate leads and build your email list by providing some kind of value during the event (like offering a free demo, holding a contest, or creating branded items).
You'll want to make sure that any events you sponsor or exhibit aligning with your target customer so that they're relevant to the people you want to attract as customers.
Affiliate marketing
Let's explore this SaaS marketing channel, and consider how you can use it to grow your business.
What is affiliate marketing? "Affiliate marketing is a type of performance-based advertising in which a business rewards one or more affiliates for each visitor or customer brought by the affiliate's own marketing efforts," according to Wikipedia. In other words, if you run a business that sells widgets and I am an established voice in the widget-loving community, then you could pay me to promote your widgets on my website or social accounts. You only pay when someone clicks those links and buys something from your store — not just for your promotion of your products.
What does an affiliate program entail? Before we get into what makes affiliates effective, let's talk about how they work in general:
1. You set up an affiliate program through a tool like LeadDyno (free) or Tapfiliate ($15/mo). It's important to choose one that integrates with other tools you already use (like MailChimp) so that you don't have to do even more data entry later on.
2. You invite people to apply to the affiliate via email, social media posts, blog posts, etc. The goal here is to find relevant people who already sell complementary products and services—ones that are similar but not exactly the same as what you offer.
3. Those who accept become part of your "network" and can share their unique links with their audience (using their own email lists, social accounts, etc.). If someone clicks on this link and purchases something from your site within a specific timeframe (typical tracking cookies last 30 days), then they get credit for it and earn a commission on the sale.* This process repeats itself as long as they remain members of your network.*
Webinars and product demos
Webinars and product demos are two different discovery tools. While a webinar is essentially a live video presentation hosted on the internet, a product demo provides potential users with an opportunity to interact directly with your product.
Webinars help you educate potential users about your SaaS tool, how it works and how it helps solve their problems. A webinar may focus on one of the critical features of your tool or tell people about several features at once. The best way to do this is by using actual examples of how customers used your tool to solve a problem. This approach helps you build trust in your audience and encourage them to explore more about your application.
Webinars can be used as part of various marketing channels like engaging peers via influencer marketing, promoting paid ads via email marketing or even getting new leads through content marketing. You can even ask participants who are interested in using the tool to sign up for a free trial during the webinar itself
Product demos allow potential users to try out your product quickly while they're still in their evaluation phase and compare solutions that are similar to yours across the marketplace. They let potential users experience how easy or difficult it is for them to complete certain tasks required for them – something that will be very important during their decision-making process. When done well, these types of interactions help you build trust and confidence in a much better way than any sales pitch ever could!
SaaS companies have different channels to promote themselves.
SaaS companies have different channels to promote themselves. Which one you choose depends on several factors:
Your current position
Your knowledge and experience in marketing
The budget you have for marketing
B2B SaaS Marketing Tips & Strategies
Reshape your content strategy
If you want to start a successful content strategy and increase your ROI in 2020, you need to start thinking outside the box.
Create more videos
Start a podcast
Use social media to its full potential
Use the power of influencers
Get more creative with content (e.g., quizzes or live video)
Personalize your emails
Personalizing emails and landing pages can go a long way when it comes to getting people's attention, boosting engagement. Once you've segmented your audience according to their needs and interests, here are some tools you can use to help you personalize your email campaigns and landing pages:
Use Topic Clusters in Your Content Strategy
With content marketing, you have to have a strategy. Topic clusters are one way of organizing your content and making it easier for people to find what they need.
Topic clustering is useful for any B2B company because it helps your audience find topics relevant to them—it's like an online guide that doesn't look like a guide. For example, maybe your company has a product that allows salespeople to track their leads and stats on the go; there's nothing better than showing a picture of somebody using the product with 'On the Go' next to it. If you're giving tips and tricks on how this works then focusing on productivity could be a helpful topic cluster, but if you're talking about how important service is then we suggest using 'Value Added'.
Repurpose Content
To get the most bang for your buck, choose content that already performs well. It's much easier to repurpose content that has already been verified as a top performer. If it's already been validated by your audience, then you know it's a great place to start.
Repurposing is also an effective strategy for saving time in the content creation process. Instead of creating new, original pieces all the time, you can take an old piece and update it with fresh info or insights. Taking this approach can help you keep up with your editorial calendar without having to endlessly create fresh pieces of content all the time!
A/B Test Everything!
You can use A/B testing to make your email content, website and landing pages more effective. A/B testing is when you test out two different versions of something to see which performs best.
For example, if you have an email campaign that's not working as well as you hoped, you can create a new version of the same email and include a new subject line. You would then send one version of the email (the original) to half of your list, and the second version with the new subject line to the other half. This way it's easier to see what combination of factors affects performance (is it just the subject line or something else in combination with that?).
There are always ways to improve your marketing.
No matter how successful your marketing efforts have been so far, there are always ways to improve.
This means staying on top of the latest and greatest marketing strategies, as well as making sure you're constantly keeping an eye on your current campaigns and analyzing what's working and what's not.
Don't forget about your customer experience. It should be at the front of every decision you make in terms of marketing campaigns. You want your CX to be intuitive and easy to navigate, no matter which platforms or channels you're utilizing.
Last but certainly not least, remember to measure results! There are tools out there like Google Analytics that can do a lot of the work for you once set up correctly. Consider setting up weekly (or even daily!) meetings with your team to analyze results and see where improvements can be made if needed.
SaaS Product Marketing Strategies
A good SaaS product marketing plan should include some short-term goals and long-term goals. Both are important to the success of a software-as-a-service business.
A short-term goal is something you want to achieve in the next year or so, like launching a new product or increasing revenue by 20%. A long-term goal could be something you want to achieve over the next five years, like building a strong brand that can compete with larger companies in your industry. To be successful with your SaaS product marketing strategy it's important to have both types of goals in mind when creating content for your website and other online platforms.
For sales tools, there are dozens of tools and tactics.
When it comes to sales tools and tactics, you could easily spend all day researching what's available. To narrow things down, focus on the tools that will make a difference for your business in particular, and don't waste time with anything that doesn't jive with your specific customer base or industry.
For example, smaller businesses with more intimate relationships between their salespeople and customers might have an easier time using interpersonal selling techniques like customer visits than larger organizations. Naturally, there are also products and services that are better for larger organizations than smaller ones (and vice versa). If you can choose tools that grow with your organization as it scales up over time, you'll save yourself from having to revisit this question again in the future.
Marketing to both existing customers and new customers.
In many cases, SaaS companies benefit from marketing to both existing customers and new customers. Marketing to existing customers can help reduce churn (the percentage of users who leave), create up-sell opportunities, and increase loyalty. Meanwhile, marketing to new customers will drive growth in revenue and total users.
The product marketing examples below are a varied group of B2B SaaS businesses that all use product marketing effectively to drive growth for their companies.
Outreach to press, bloggers and traditional media.
The best way to market a new product is to talk about your business with the press, bloggers and traditional media. This can be very difficult, but it is well worth the effort in the long run. If you are able to get some good coverage on influential publications and blogs, then you will be able to attract more customers and more interest in your business.
You need a PR agency that works closely with journalists and writers who are interested in covering your product or service. You should also have a social media presence that is active and engaging. Having a podcast where you interview experts in your field will help build credibility for your brand as well.
This might seem like common sense, but it's not always obvious how important these things are until after launch day has passed by without seeing any kind of traction from them! Make sure you have at least one person from each department responsible for keeping up relationships with journalists/bloggers so they can keep tabs on what people are saying about your company online before launching other initiatives."
Collect Feedback From Existing customers
You should be talking to customers who have benefited from your company before you start trying to convince new ones.
Why? Because:
It will give you more feedback on what people like about your product, and why they bought it
You can get ideas for future features that will make it even better
You can use their feedback in your marketing campaigns
You could even ask them for testimonials or case studies
Keep your product roadmap up-to-date.
You should keep your product roadmap up-to-date. In order to do this, you need to create a set of goals for your product and work backwards from there. For example, if you want to move into the SaaS space in the next five years, then you need to plan what it's going to take to get there. You might start by asking yourself questions like: What will I be doing? Where will my business be located? Who is my target audience?
Once you have answers for those questions, then it's time to think about how you can achieve them in the near term. It may involve creating a new feature or redesigning an existing one. Either way, planning ahead is important because it means that your customers know what they can expect when they use your products or services!
Focus on growing revenue.
If you're in the midst of a pivot, expect some ups and downs as your traffic dips and rises, but keep focused on growing revenue. This is what will ultimately determine if the change was worthwhile. As with any project involving growth, have patience. It can take time to recover from a big shift.
If you're noticing some negative effects, look at ways to mitigate them—like sending more personalized emails to recent visitors or increasing your social media presence by providing useful content that's relevant to your new target audience. If you are not seeing positive results after taking these actions, consider consciously shifting back towards previous strategies without abandoning changes entirely so that both strategies can play off one another.
Now it's time for us to hear from you! Which of these digital marketing case studies caught your eye? Which one did we miss? If you'd like more information about how Drift helps SaaS companies grow their revenue through conversational marketing and sales, then click here to request a demo today!
Marketing Automation For SaaS
A few key points to keep in mind:
Work with a marketing automation partner who can help you with strategy, execution, and maintenance. Marketing Automation is more than just the software.
Inbound marketing is about the long haul — it's a marathon and not a sprint. Figure out what your end-goals are and make sure that you have the resources, the time, and your team's buy-in to achieve success. Our friends at Hubspot talk about getting started through [Inbound Methodology](http://www.hubspot.com/inbound-marketing).
Make sure you're using the right tools for the right job — don't necessarily jump on every new trend or idea, but figure out what makes sense for your organization both from a business and technical standpoint. Don't try to use one product for everything as you'll end up limiting yourself and having problems down the road (I'm looking at you Salesforce!).
Find ways to optimize your marketing automation system so that it becomes part of all your processes into perpetuity (or until something better comes along). Don't allow yourself or others to bypass or limit access to it. If something needs to be updated or changed in order for things to work properly then get on it! Look for opportunities that might not have been considered before such as: integrating Twitter feeds into emails; using social media channels like Pinterest & Instagram as content platforms; linking up with YouTube & Vimeo videos; creating an affiliate program; building relationships with bloggers; etc…
Use analytics to help you get off the runway (the launch phase).
To answer this question, you need analytics. Analytics are key to understanding and optimizing your marketing efforts, which is especially important in SaaS where the average customer journey can be long, with multiple touchpoints and channels. (With a physical product, you put it on shelves, people buy it—the end.)
As noted before, SaaS companies typically spend between 20% and 50% of revenue on sales and marketing costs. So how can you tell if your marketing is working? Analytics will not only help you understand how well your marketing is working but also help identify areas of opportunity or problem areas in your funnel. Additionally, analytics will give insight into the full customer journey beyond just acquisition (for example: churn or retention). You'll know what's working to drive growth for your company so that you can double down on those tactics or campaigns.
But before diving into analytics headfirst, marketers must understand what their key metrics are; this should be one of the first tasks after creating a marketing plan. Metrics differ from company to company depending on where they are in the lifecycle of their business as well as their specific goals.
11 Crucial SaaS Marketing Metrics You Must Track
The Average Revenue Per User (ARPU).
When it comes to measuring the average revenue per user (ARPU), there are a few different ways to interpret the data. For example, you can calculate the amount of revenue your customers generate by dividing the total revenue of all users by their total number.
This figure is very important for SaaS companies because it is an indicator of growth and can be used as a benchmark against similar companies in your industry.
Also, ARPU provides insight into how much value each customer brings your company. In other words, if you want to know what kind of ROI will result from acquiring new customers at any given point in time then looking at their lifetime value would be helpful but not sufficient without knowing how much revenue they're currently generating over time which helps predict whether or not those customers will remain loyal over multiple years or churn after only using your product once or twice before canceling their subscription altogether (which would leave little room for error).
However, there are some drawbacks that come with using this metric exclusively as well: it fails to account for recurring vs non-recurring purchases which can have drastic effects on long-term forecasts since these often vary widely within industries — especially between B2B and consumer apps where monthly subscriptions tend not dominate so heavily."
Cost Of Customer Acquisition (COCA).
Customer acquisition cost, or CAC, is the amount of money you spend on acquiring each new customer. Keeping track of this metric will help you determine whether your marketing strategy is effective.
To calculate COCA, divide the total amount spent on marketing by the total number of customers acquired during a set period of time.
A good customer acquisition cost depends heavily on what industry you're in; for instance, SaaS companies can afford to pay more for customers than most B2C companies can. However, if your COCA is too high relative to your average revenue per user (ARPU), then you need to reevaluate your marketing strategy and find ways to acquire customers at a lower price point.
A few tactics that might help reduce your COCA include: moving from outbound to inbound marketing; optimizing existing landing pages for conversions; providing free trials; and adjusting pricing plans so that different pricing tiers are attractive at different levels of commitment from potential customers.
Customer Lifetime Value (CLV).
A more advanced metric in the world of software as a service (SaaS) marketing is Customer Lifetime Value or CLV. This figure is a prediction of how much revenue one customer will generate for a business over time.
It can be extremely helpful to track this metric because it helps SaaS companies accurately determine how much they can spend on acquiring new customers compared to what they'll make from each individual customer over time.
When calculating CLV, you must first find the average Revenue Per Account or RPA. To do this, simply take the total revenue earned divided by the number of accounts during a specified period of time, usually a year. Next, you find the Customer Retention Rate CRR.
CRR is measured by taking your number of accounts at the end of the year and dividing that by your number at the beginning of that same year, minus any customers lost during that time span.
Finally, multiply those two numbers together to get an estimate of CLV for your company's yearly timespan. For example:
RPA = Total revenue earned / Number of accounts

CRR = Number of current accounts / Number at beginning of period – Lost Customers

CLV = CRR * RPA
Customer Churn Rate.
Customer churn rate is the percentage of customers that have stopped paying for a subscription to a product or service. In other words, it's a measurement of how many customers you've lost over a specific period of time.
In order to calculate your customer churn rate, divide the number of customers you lose in any given month by the number of subscribers you had at the start of that month. Then multiply by 100 so you're left with a percentage. For example:
Number of Customers Lost: 20

Number Of Subscribers at Start Of Month: 300

20/300 = 0.067 x 100 = 6.7% Churn Rate
This metric helps show you where customers are dropping off and why they're leaving your product or service—and it's important because the higher your churn rate, the more money you're losing out on! If you know where potential issues are coming from, then you can make changes to your business model and address those issues right away.
Conversion Rate.
Conversion rate is the percentage of visitors who convert into leads or customers. It's the most important metric you can track because it directly tells you how effective your marketing efforts are.
Here is a formula for conversion rate:
Conversion Rate = Total Conversions / Total Visitors * 100
CAC Payback Period.
The CAC Payback Period is calculated by dividing the total cost of acquiring customers (CAC) in a month by the total revenues generated from those customers in the same month. This metric helps you understand how long it will take for your SaaS business to recoup its customer acquisition costs.
To calculate:
Total Cost of Acquiring Customers / Total Revenues Generated from New Customers In That Month = CAC Payback Period
For example, if you spent $2,000 on acquiring new customers and generated $5,000 in revenue that month, your calculation would be 2,000/5,000=0.4 months or 4.8 weeks or 36 days.
This means it will take about 36 days (or slightly over a month) to break even for that cohort of customers acquired.
The lower your CAC Payback Period is, the better off your SaaS marketing campaign is at generating ROI.
Net Promoter Score (NPS).
Net Promoter Score (NPS) is a metric that measures customer loyalty by asking them how likely they are to refer your product to others. Because it's based on customers' thoughts, feelings, and reactions to the product, NPS is an excellent way to measure customer satisfaction and identify areas of growth – but it isn't a perfect indicator of whether or not customers will actually recommend your SaaS to others.
How do I calculate my NPS?
NPS should be calculated after getting answers from at least 10-15 customers who have used the product for a minimum of 30 days. Here are the steps:
Ask one simple question: "On a scale from 1-10 how likely are you to recommend this product or service?"
Divide responses into three categories: detractors (0-6), passives (7-8), and promoters (9-10).
Subtract the percentage of detractors from promoters and you have your NPS score! For example, if 70% of respondents were promoters and 20% were detractors, then your score would be 70% – 20% = 50%.
Customer Satisfaction Score.
To calculate your customer satisfaction score, you'll want to assess the number of support tickets that have been resolved within your stated SLAs. You can then compare this figure to the total number of open and pending support tickets.
If your customer satisfaction score is low, it might be time to rethink how you approach your internal processes. Perhaps there are too many onboarding steps for new users, or maybe your interface could use a refreshment to make it easier for people to find their way around.
By monitoring this metric regularly and keeping a close eye on whether it increases or decreases, you can spot trends in user behavior that might not have been as obvious otherwise. In addition, if you notice an uptick in CSAT scores following a change in your product or marketing approach, you'll know that what you did worked well and should be repeated (or increased).
Session Number and Duration.
Imagine you've just opened a new restaurant and hired a waiter to work the front of the house. One weekend, you head over to your restaurant, order a drink from the bar, and sit down at a table.
You watch as your waiter greets guests, takes their orders, and delivers their food. After several interactions, you notice that he's very friendly with all customers and performs his duties swiftly. As soon as one customer leaves, he quickly fills up their glass and takes the order of another customer at the table.
But while all seems well on the surface, something's off when you dig deeper into his activity. You find out that he typically waits until guests' glasses are empty before offering them more water or wine. Additionally, it takes him longer than average to take food orders because he first asks if they would like anything else besides what they ordered — even though they made it clear earlier in their conversation that they only want what's on the menu!
Session Number and Duration is your Google Analytics version of this scenario: it tells you how many times people visit your website (similar to noticing your waiter has excellent guest greeting skills) but also how long each user session lasts (similar to seeing that once guests get seated there are problems).
As its name suggests, Session Number measures how many times visitors interact with your site during a specific time period such as daily or weekly sessions.
And it can be segmented by source so that if price changes for one service affect several products on your site, those metrics won't be mixed together in an aggregate number for the entire site but instead broken down into separate segments – similar to receiving alerts when certain pages crash while others don't.).
This information allows marketers looking at conversion data through services like Hotjar (see below) access not just which devices users come from–mobile/tablet/desktop–but also whether or not there was an error message blocking them from completing their task.");
Most Viewed Pages by Channel.
You can use the most viewed pages to understand how people are getting to your site and what content on your site is popular for a given channel. If you're seeing that your top-performing page for organic search is the pricing page, but the pricing page isn't a top performer for social, it might indicate that people who visit via social are more interested in something other than the price of your product. You may want to create more content around the features of your product or case studies that highlight how you solve customer problems.
Most viewed pages also give insight into pages that offer additional opportunities for conversion. You may find that while your blog posts are performing well, they aren't converting readers as prospects or signups as much as you would like. In this case, you might consider adding strong CTAs at relevant points throughout key blog posts or including an email capture form within blog post templates.
Conclusion
We hope that this article has helped you understand the basics of SaaS marketing and how it differs from traditional software. SaaS is a growing trend, so if you haven't already considered implementing it into your business plan, now might be the time!